Categories
Ships, Vessels, Submarines & related equipment
Composites, Plastics & Rubber
Since 1990, Stingray Marine manufactures Fast Patrol Boats, Workboats/Landing Craft, Drysuits and Canopies for Ldv's. Further, it is one of the largest manufacturers of Inflatable and Rigid Inflatable Boats in the Southern Hemisphere.
The company has a full range of unique state of the art catamaran RIBS, as well as the conventional monohull models. Stingray also has a full range of soft bottom foldable inflatables.
The company supplies recreational, commercial and military markets with their unique patented designs utilizing in-house designers to customize these to suit individual client's needs. Stingray Marine customers' list includes various units in the S.A. National Defence Force, including the S.A. Navy.
The company's boats are exported to Europe, Australasia, North and South America, Asia and Africa.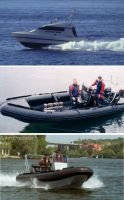 Stingray Marine
P.O. Box 1534, Durbanville, 7551, Cape Town, South Africa
+27219871190
+27219886986
alba@iafrica.com