Categories
Electrical, Electronics & Electro-optics
TTAF Defense was established in 2012 and is active in the design and manufacture of high performance electrical cable assemblies including wiring harnesses / wiring looms, power cables and a variety electro-mechanical assemblies including control panels and control boxes built to survive harsh environment applications and offering extended operational life. TTAF Savunma San Ve Tic A.S employs 50 highly skilled and experienced workforces with expertise in various disciplines and a variety of industries. TTAF Defense is AS 9100 rev.C and ISO 2001:2008 certified.
MANUFACTURING
Electromechanical Assembly Manufacturing
TTAF Savunma San Ve Tic A.S offers electro-mechanical assembly service on products that include control panels, control box assemblies and sub-assemblies as compliment of core business of cable assembly. TTAF Defense manages the entire supply chain of components such as PCBs, switches, bulbs, LEDs etc. including painted or plated metals or thermoplastic materials.
Electrical Harness and Cable Assembly
Aerospace Platforms - From their AS9100 registered facility the company supplies wire harnesses and electrical cables for mission-critical products that are designed and engineered to meet specific application requirements for electrical connectivity, systems control, testing and support on a wide range of aircraft and equipment platform.
Naval Systems - Special requirements for extreme conditions in which marine ships operate, are placed on cable assemblies and wire harnesses. TTAF Savunma San Ve Tic A.S's design and production techniques in maritime environments is ensured by rigidly following to international standards and intensive testing procedures designed for these environments.
Armoured Vehicles - TTAF Savunma San Ve Tic A.S is committed to serving the Armed Forces with expertise in ruggedized cable assembly with extensive knowledge of the components and materials regularly used in Mil-Spec Wiring Systems including connectors, back shells, wire and the heat shrink tubing for the most challenging Land based vehicles and applications providing the perfect solution for ease of installation.
Communication Equipment - TTAF Savunma San Ve Tic A.S's cable assemblies are lightweight and designed to excel in the military communications field, widely used for interconnecting headsets or microphones.
CAPABILITIES
Fibre Optic - Fiber optic technology provides significant advantages for military tactical applications. Ease of install, Long distance repeaterless structure, low weight, higher bandwidth, resistance to EMI or RFI and security which reduces need for encryption.
Over-molded Assemblies - TTAF Savunma San Ve Tic A.S is an expert in fully sealed, potted and over-molded cable assemblies which design, prototype, tool, mold are being processed in-house
Plastic Injection & Tooling – The company's plastic production is performed on a comprehensive range of horizontal and vertical injection machines, from 20 through 400 tons.
Laser Marking & Ident Printing - Ensuring a durable, permanent marking, while maintaining insulation integrity; TTAF Savunma San Ve Tic A.S provides laser marking for the demanding marking specification.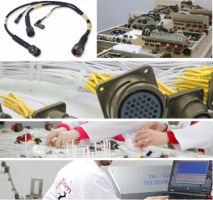 TTAF Savunma San Ve Tic
Ostim Mah. Ahi Evran Cad. 1212.Sok. No: 24 06370 Ostim Yenimahalle,, Ankara, Turkey
+903123862266
+903123863536
info@ttafsavunma.com.tr