Last Update
September 12, 2018
Categories
Engines, Propulsion, Power Generation
IT, Computing and Software
Mechanical, Electro-mechanical, Hydraulic and Pneumatic components
Metal Processing, Parts & Components
Ships, Vessels, Submarines & related equipment
TURBOCAM exists as a business for the purpose of honoring God, creating wealth for its employees, and supporting Christian service to God and people.
TURBOCAM seeks to accomplish this purpose by achieving excellence in the manufacturing of turbomachinery parts by 5-axis machining and related technologies and satisfying the needs of its customers for Quality, Price, Delivery, and Service.
As it interacts with its customers, suppliers, and employees it holds itself accountable to God's law expressed in the Bible. The Company is committed to integrity in its business and personal relationships.
Mission Jar In the beginning, this jar stood in the cafeteria of Dover, N.H. plant, and proceeds from it helped to feed 24 children every day at a village school near its plant in India. It was a small expression of the culture of generosity and service that has grown among TURBOCAM's employees worldwide.
Today, its employees don't use a jar, they use a donation box. There is a selection of 10 charities, and its employees donate thousands of dollars each year to support families freed from slavery in Nepal, orphanages and leprosy colonies in India, a pro-life Crisis Pregnancy center in New Hampshire, local homeless shelters and food pantries, and many other needs.
TURBOCAM's commitment is about more than just giving money. Employees and their family members have taken clothing to India and worked in the orphanages, have delivered school supplies and installed water treatment systems in Nepal, provided training and access to new crops and livestock in Nepal and India, built elementary schools in Nepal, and supported nursing schools in India.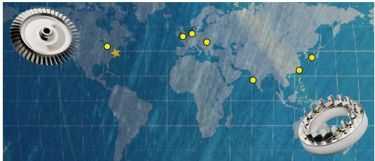 TURBOCAM India Pvt. Ltd.
D2-9, Margao Industrial Estate, San Jose de Areal, Goa, India
+91 832 286 0176
+91 832 286 0012
sales@turbocamindia.com