Categories
Mechanical, Electro-mechanical, Hydraulic and Pneumatic components
Metal Processing, Parts & Components
ZTS-SPECIAL, a.s. has more than 70 years of experience in the production of military equipment. The company's product line includes the manufacture of barrels and guns in calibre range from 30 mm up to 155 mm. ZTS-SPECIAL is equipped with technologies for complete production of barrels, up to testing and trials of final products.
The company's defence production includes: Turret DVK-30; Barrel's production programme; 30 mm automatic gun 2A42; 73 mm gun 2A28; 100 mm tank gun D-10; 125 mm tank gun 2A46 and 2A46MS; 152 mm gun; 155 mm gun 45 cal.; 155 mm gun 52 cal.
In the civil sector ZTS-SPECIAL offers a production of functional samples, prototypes, pieces and small-series items. Further, they can offer cooperation in the field of mechanical machining of materials. The manufacture accuracy is provided in tolerance ranges within the accuracy class from IT 5 up to 11.
The machine stock and its general technical parameters: Turning; Deep-hole drilling; Grinding, Honing; Milling; Welding; Cold forming; Heat treatment & Coat services; Painting; Locksmithing; 3D measuring.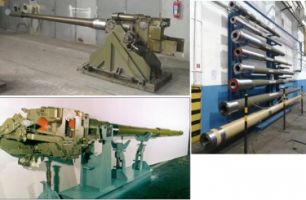 ZTS - SPECIAL, a.s.
Lieskovec 575/25, 018 41, Dubnica nad Vahom, Slovak Republic
+421/42/2020 040
ztsspecial@ztsspecial.sk