Last Update
March 29, 2018
Categories
Engines, Propulsion, Power Generation
Mechanical, Electro-mechanical, Hydraulic and Pneumatic components
Military, Tactical, Logistic Support Vehicles & related equipment
Ships, Vessels, Submarines & related equipment
Pon Holdings B.V. is a Dutch conglomerate in the transportation sector. It was founded in 1980 by Ben Pon (junior), a former racing car driver and son of Ben Pon, who became importer of Volkswagen in the Netherlands in 1947.
Industries
PASSENGER CARS
In the Netherlands, Pon is a household name connected with Volkswagen. But Pon is also the official importer for Audi, SEAT, ŠKODA, Porsche, Lamborghini, Bentley and Bugatti.
COMMERCIAL VEHICLES
Pon offers total solutions in the Netherlands for every mobility situation, built around the products of leading auto brands Volkswagen Commercial Vehicles and MAN.
TIRES AND AXLES
Pon supplies tires, rims, complete wheels and trailer axles for a wide range of vehicles. This is founded on strong brands such as Continental, Oxxo, SAF, GF, Achilles, GT Radial and Infinity.
BICYLES
With leading bicycle brands like Gazelle, Cervélo, Union, Focus, Kalkhoff, Univega, Raleigh and Rixe under our umbrella, Pon offers a complete portfolio from children's bikes, e-bikes, high-end competition bikes and racing bikes, to parts and accessories.
EARTH MOVING EQUIPMENT
Combining the efficient, reliable Caterpillar earthmoving equipment with our longstanding expertise of the industry, Pon has the right tool for every job.
FLOW CONTROL
With a large portfolio of A-brands and a highly trained, dedicated workforce Pon supplies turn-key products, solutions and services in the area of flow control and fire safety to a range of industries.
MATERIAL HANDLING
In the United States Pon offers complete solutions for material handling, matched to the capacity and flexibility of every business.
MARITIME
From pleasure craft to ocean going vessel: Pon offers a fitting solution in every category, backed by the reliable power sources of Caterpillar, MaK and MAN Rollo.
POWER GENERATION
The diesel and gas engines of Caterpillar, MaK and MAN Rollo are the backbone of Pon's total solutions for efficient energy generation, conversion and control.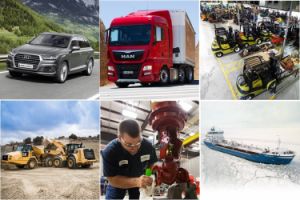 Pon Holdings B.V.
Rondebeltweg 31, 1329 BN, Almere, The Netherlands
+31 88 60 60 100
info@pon.com