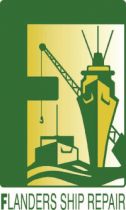 Categories
Maintenance Repair Overhaul and Logistics Support
Ships, Vessels, Submarines & related equipment
Flanders Ship Repair is an independent company that has been specialized in ship repairs and industrial maintenance for years. Our company is based in the center of the port of Zeebruges and very close to all commercial terminal operators.
Jobs are carried out in our brand-new certified workshop of 1,800m2. All departments are separated and well equipped with hoisting gear and machinery operated by a certified and skilled workforce. Our workshop is Germanischer Lloyd and Bureau Veritas certified.
Flanders Ship Repair is a very flexible company and acts on short terms. Our suppliers are well screened to avoid delays on urgent jobs. FSR has a warehouse with all necessary welding equipment, plates, profiles, pipes, fittings, gaskets and other technical materials.
Even your equipment or spare parts can be stored in our secured warehouse or in an open space of 3,000 m2. Our workshop and warehouse are monitored with cameras and secured with electronic locks. Manipulation and transport of your goods will be carried out by FSR.
Flanders Ship Repair
Noordzeestraat 14, 8380 Zeebrugge, Belgium
+32 50 33 70 50
+32 50 33 53 04
info@fsr.be