Mar 10, 2020
SOURCE: Kongsberg
Kongsberg has signed a contract for Naval Strike Missile worth 203 MNOK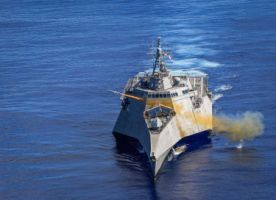 09 Mar 2020 - Kongsberg Defence & Aerospace AS (KONGSBERG) has signed a contract with Raytheon Missile Systems for Naval Strike Missiles (NSM) to the US Navy Over-The-Horizon Weapon System (OTH WS) program worth 203 MNOK. Raytheon is prime contractor to the US Navy. The order is related to the OTH WS framework agreement announced 31 May 2018 with a total cumulative scope of $847,611,857 MUSD.
For further information, please contact:
Ronny Lie, Group Vice President Communications, Kongsberg Gruppen ASA, Tel.: (+47) 916 10 798.
Jan Erik Hoff, Group Vice President Investor Relations, Kongsberg Gruppen ASA, Tel: (+47) 991 11 916.
KONGSBERG (OSE-ticker: KOG) is an international, knowledge-based group delivering high technology systems and solutions to clients within the oil and gas industry, merchant marine, defence and aerospace. KONGSBERG has close to 11,000 employees located in 40 countries. Follow us on Twitter: @kongsbergasa.
View source version on Kongsberg:
https://www.kongsberg.com/news-and-media/news-archive/20202/kongsberg-has-signed-a-contract-for-naval-strike-missiles-worth-22-musd/