Mar 16, 2020
SOURCE: RUAG
Royal Netherlands Air Force renews maintenance contract with RUAG MRO Switzerland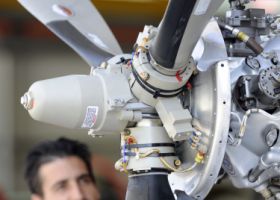 March 13, 2020 - RUAG MRO Switzerland has been awarded the publicly tendered maintenance contract by the Royal Netherlands Air Force for its PC-7 training aircraft. The award underlines RUAG MRO Switzerland's expertise as a competent, efficient partner in the field of life cycle management of propeller aircraft.
The Royal Netherlands Air Force has placed its trust in the cooperation with RUAG MRO Switzerland for a further two years, until the end of 2022. The contract appoints the company as maintenance service provider for the propellers of the Royal Netherlands Air Force PC-7 training aircraft – with the option to extend the contract until the end of its life cycle in 2026. It replaces the previously existing agreement for Maintenance, Repair & Overhaul (MRO) in the field of PC-7 propeller maintenance. RUAG MRO Switzerland in Lodrino is one of 24 "Hartzell Recommended Service Facilities" worldwide, the global market leader among Original Equipment Manufacturers (OEMs) for propellers.
The Royal Netherlands Air Force has been a long-standing customer of RUAG MRO Switzerland and has relied on the company's expertise in PC-7 Life Cycle Management for some ten years. The Royal Netherlands Air Force's continued confidence in RUAG MRO Switzerland underlines its expertise as a materials competence centre for propeller aircraft. "We are delighted about this order. As a technology partner of the Swiss Army, these synergies in the third market allow us to expand our competencies sustainably and in the long term," explains Max Grob, Business Development Manager Propeller Aircraft & UAV, RUAG MRO Switzerland.
RUAG MRO Switzerland is a certified repair facility for the Pilatus PC-6, PC-7 and PC-9 training aircraft and has been audited and accredited by the Royal Netherlands Air Force according to the NLD-MAR military guidelines. The state-of-the-art infrastructure of the Lodrino site and its highly committed specialists make RUAG MRO Switzerland one of the leading partners of propeller aircraft operators worldwide. As an independent service provider, RUAG MRO Switzerland's offer includes the maintenance of the entire aircraft and its subsystems, such as engines and components, as well as implementing cockpit upgrades and value retention measures.
Foto RUAG MRO
For more information on RUAG MRO Switzerland, please contact Kirsten Hammerich, Senior Media Relations Manager, kirsten.hammerich@ruag.com / Mobile +41 79 770 81 18
For more information on our services for propeller aircraft, please contact Max Grob, Business Development Manager Propeller Aircraft & UAV, max.grob@ruag.com / Mobile +41 79 636 44 25
View source version on RUAG:
https://www.ruag.com/en/news/royal-netherlands-air-force-renews-maintenance-contract-ruag-mro-switzerland