Apr 13, 2020
SOURCE: Semi Conductor Devices (SCD)
SCD takes part in an Israeli initiative led by the IMOD and IDF in an emergency-mode effort to fight the COVID-19 Virus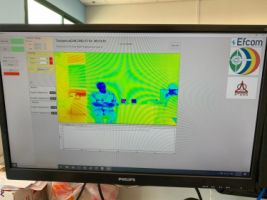 Israel April 13, 2020 - SCD –Semi Conductor Devices (SCD) ‒ a global leader in the development and manufacture of a wide range of cooled and uncooled infrared detectors and high-power laser diodes - announced today its involvement in the development of a system that will remotely monitor physiological parameters, assisting medical personnel in their diagnostic process.
The system's development is a combined effort led by the Israeli Ministry of Defense (IMOD) Directorate of Defense Research and Development (DDR&D) and the Israel Defense Forces (IDF) Technology Unit with participation of additional Israeli Industries. SCD provides the Infrared (IR) video engine sensor including developing specific adaptations for the system's unique requirements, thus ensuring seamless system integration and operation.
The SCD video engine sensor - termed VOXI - is a highly sensitive IR sensor with advanced processing abilities enabling remote and automatic temperature monitoring in various environments.
"SCD is proud to take part in this rapid Israeli design effort working side by side with the IMOD and IDF technology experts", says SCD's CEO Dan Slasky. " Fighting the coronavirus in any possible way is crucial, and the new system developed will improve the efficiency and safety of the diagnostic process in hospitals and public facilities", he says.
The new system has future potential as well, as it will be suitable for use in dense, crowded sites, where monitoring vitals for safety purposes may be needed, such as train-stations, shopping centers, office-buildings, amusement-parks, and more.
About Semi Conductor Devices (SCD)
Semi Conductor Devices (SCD) develops and manufactures a full spectrum of cooled and uncooled infrared detectors and laser diodes. The company's advanced concepts and cutting-edge technologies have positioned it as one of the world's leading sources of IR detectors. The close relationship between SCD and well-established systems houses around the world ensures that SCD's detectors are produced in accordance with the latest military and industrial requirements. SCD offers a complete range of off-the-shelf and custom-designed detectors and laser diodes in various configurations – which are typically applied in IR seekers, thermal imagers, smart munitions, night vision systems, machine vision systems, medical applications, laser rangefinders and laser designators. SCD's detectors are designed for the entire IR spectrum – NIR, SWIR, MWIR, and LWIR.
Contact Information
Kobi Zaushnizer
VP Marketing & Business Development - SCD
Email: Kobi_z@scd.co.il