Last Update
November 14, 2016
Categories
Services (R&D, training, engineering, consultancy, …)
Textile, Individual Equipment, Clothing
Joint-stock company "Tuma" is situated in Vilnius, Lithuania. Some referece distances from Vilnius: 170 km to the Polish border (Lazdijai); 52 km to the Belorussian border; 313 km to the ice-free Klaipėda port; 283 km to Riga; 942 km to Moscow; 734 km to Kiev; 777 km to Stockholm.
The basic product manufactured at company "Tuma" is textiles.
Joint-stock company started in 1992. The company "Tuma" has developed and increased its number emploees. Its turnover has grown since it was established. The company designs, constructs, produces uniforms for military, police, customs and other organizations in Lithunia and overseas coutries.
The Company is a member of the organization "Green Point".
"Tuma" is ISO 9001 certified.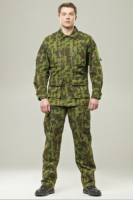 Tuma UAB JSC
Savanoriu 139, Vilnius, Lithuania
+370 2 232509
+370 2 653517
tuma@is.lt