Last Update
September 14, 2018
Categories
Radar, Sonar, Navigation, Targeting, Surveillance
Services (R&D, training, engineering, consultancy, …)
Triad AS, is a Norwegian SME that works with scientific research in various fields of physical science. The company's main field of interest is charaterization of general targets and geophysical phenomena by electromagnetic and acoustical waves.
Since 1986 and until now several experimental radar and sonar prototypes have been developed by Triad. Triad also holds world wide patents on several aspects on radar technologies including wake vortex detection, wind and turbulence measurements.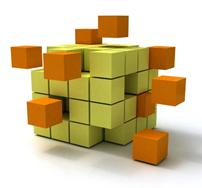 Contact info #1
Prof. Olav Hanssensvei 7A, 4021 Stavanger, Norway
Multi-static 3-D wind, Turbulence & Vortex Radar
Multi-static Doppler radar that relies on scattering from atmospheric movements in the inertial subrange.
A multi-static X-band radar system couple to scales of 1.5 - 50 cm
Small scale turbulence is estimated by spectral processing
3D, large scale turbulence and vortex detection by Doppler processing
Research at PhD-level have been performed
Proof of concept by prototype testing at 50–1000 meters altitude
The system is patented in Canada, US and Norway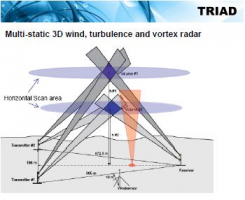 Product informational files
Radio-Acoustic wind, turbulence, Temperature & Vortex Radar
Measures 3D wind, turbulence, vortex and temperature along a vertical acoustic column.
Based on Bragg wavenumber matching between electromagnetic and acoustic waves.
Bi-static radar setup provides an advantage over other radioacoustic systems and makes it possible to measure in several altitudes simultaneously with fine resolution in space and time.
Prototype testing have proved the system performance in wind, turbulence,temperature and vortex measurements up to 200 meters altitude and have demonstrated vortex detection capability.
Patented in Norway, Germany, US and UK.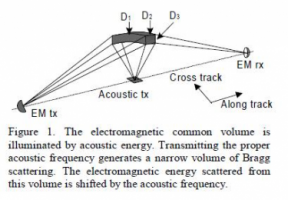 Product informational files
RESEARCH & DEVELOPMENT
Triad performs scientific research, innovation, development and consulting within remote sensing.
Triad can provide:
Conseptual and detailed solutions in remote sensing

Theoretical development

Link between physics, measurements and signal properties

Algorithm and software development

Technological consulting

Analysis

Simulatons

Prototyping (with partners)

Experiments, tests and documentation
Specific fields of competence:
Wind and turbulence measurements by radar and acoustic waves

Sea surface and oil spill detection radar technology

Millimetre wave radar

Automotive Radar Applications

Target Characterisation/Classification

Bi- and Multi static radar technology

Multi Frequency Radar systems

Sea, ground and air surveillance radar

Perimeter radar Anti-Personnell radar

Radar-Transponder systems

Seismic applications
RF MEMS Steerable Antennas for Automotive Radar and Future Wireless Applications (SARFA)
A project within the NORDITE Scandinavian ICT Research Programme, with activities on RF MEMS based beam-steering front-end for 77 GHz automotive radar and future high-capacity re-configurable point-to-point wireless applications beyond 100 GHz.
Work period, phase 1: January 1st, 2006 to December 31st, 2007
Work period, phase 2: January 1st, 2008, to December 31st, 2010.
The project has been granted the requested funding for both work periods.
Funded Academic Partners:
KTH - Royal Institute of Technology, Stockholm, Sweden
TKK - Helsinki University of Technology, Helsinki, Finland
NTNU - Norwegian University of Science and Technology, Trondheim, Norway
ADOSE PROJECT
ADOSE is a STREP Project, started in January 2008 and co-funded by the European Commission Information Society and Media in the strategic objective "ICT for Intelligent Vehicles and Mobility Services". It addresses the enhancement of preventive and active safety functions through the development of high performance and low cost sensing technologies suitable for reliable detection and classification of obstacles and vulnerable road users in hostile environments. The project is focused mainly on sensing elements and their pre-processing hardware, as a complementary project to PReVENT. Novel concepts and sensory systems will be developed based on Far Infrared cameras, CMOS imagers, 3D packaging technologies, ranging techniques, bio-inspired silicon retina sensors, harmonic microwave radar and tags.
RAWi PROJECT
The Radio Acoustic Wind Sensor is a high resolution sensor for remote sensing of 3D wind, turbulence and temperature. The sensor is developed, tested and qualified by the partners in a 2.5 year project starting from October 1st 2010.
True 3D wind solutions in remote sensing

Based on patented multi-static radar technology

Proven up to over 300 meters heigh

High resolution in time and space

Scanning capabillity

Resolves wake and shear

Spans and resolves the entire turbin swept area

Can provide turbulence intensity and structure constant
Applications
Wind energy prospecting and siting
Wind turbine characterization
Wind resource mangagement
Pro Active Turbin Control
Meteorology
Wake-Vortex detection
FEW PREVIOUS PROJECTS
Eurofighter, R&D Radar Target Recognition
EADS, R&D Radar Target Recognition
ONR, Sea Surveilance Radar
BAE Systems
Ericsson Microwave
EWOS Innovation
The Norwegian Research Council, 1993 - 2002
John Hopckins University, 1986 - 1994
Statoil, 1986 - 1987 and 199
The Swedish Defense Research Establishment, 1989
The Royal Navy Material Command, Norway, 1991
DARPA and US Defence Department, 1989 - 1995
Ericsson Radar, 1996 - 2001
SUSAR and PFM, 1994 - 1997
NERA, 1997
SCANTECH, 1997 - 2001
GEC- Marconi, 1998
IDEX, 2001
Thomson Marconi Sonar, 2001
Triad AS has also contributed to the education of students at M.Sc and PhD levels at several Scandinavian Universities.
Triad AS
, Stavanger, Norway
+ 47 928 34 142
triad@triad.no