Last Update
August 21, 2018
Categories
Electrical, Electronics & Electro-optics
IT, Computing and Software
Mechanical, Electro-mechanical, Hydraulic and Pneumatic components
Metal Processing, Parts & Components
Services (R&D, training, engineering, consultancy, …)
Tronrud Engineering, was founded by Ola Tronrud in 1977 and is a supplier of specialist machinery to the industry both at home and abroad. The company assists its customers with the development of profitable industrial products and technical solutions.
Design of special solutions for the industry is core business at Tronrud Engineering.
The company also offers services within design, machining, welding and assembly of parts.
Contact info #1
Business Development - Sales
torgeir.stadheim@tronrud.no
Flyplassveien 22, N-3514 Honefoss, Norway
RESEARCH AND DEVELOPMENT
The R&D department supports internal projects and external customers focusing on:
Renewable energy
Robot technique
Wafer tecnology
FEM analysis
Thermology
Acoustics
Flow analysis
Structure
Algorithm development
Tronrud's R&D department has expertise within mathematical modelling and algorithm development. Advanced FEM (Finite Element Method) tools are utilized, in order to form a theoretical support for the more practical parts of the company's projects, as well as to solve pure R&D tasks for its customers.
The company's experience is that building up an adequate theoretical foundation before getting too deep into a new project can be of vital importance, in order to solve a problem within the budget and the time frame, as well as to achieve an optimal technical solution.
DESIGN
The process of developing a machine, often starts with an idea before it ends on the drawing board. Tronrud Engineering is putting the ideas into practice.
All design is carried out using state-of-the-art CAD-systems. Tronrud Engineering has worked with 3D-CAD since the early 1990s and today the company uses Siemens PLM Software (NX and Teamcenter). The company also uses CAD to design electrical systems when these are a part of its projects.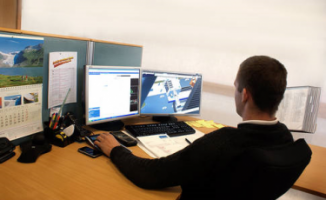 PRODUCTION OF PARTS
An optimal combination of CNC controlled machinery and highly skilled personnel are the key strength of this department. The machinery equipment is on the cutting edge of today's technology. Directly transfer from CAD to CAM ensures a high quality and short lead time of complex geometry.
The welding department uses common welding techniques like TIG, MIG and MAG, with certified welders. This department also has a workshop for sheet metal production.
The assembly department, with its highly skilled workers, ensures that the building and testing of machines are at a world-class level.
WATER JET CUTTING
Water jet cutting is a trimming method for plate materials where one cut with water under extremely high pressure mixed with an abrasive material. With a water jet it is possible to cut most materials. Cutting carried out by a water jet makes very fine surfaces and requires little after treatment.
MACHINING
Tronrud Engineering has one of the most modern machining centre in Norway.
Its machining department has highly skilled and experienced employees operating a variety of milling and turning machines. We are able to handle all common material types.
Drawings are transferred directly from CAD systems to the machines, ensuring high accuracy and short programming time.
The company's machine park consists of 19 CNC controlled machines – where the newest one is a Mori Seiki NMV5000 DCG, a 5 axed milling machine.
Chiron FZ08
Deckel FP3NC
Deckel FP42NC
Deckel Maho DMU50
Deckel Maho DMU50T
Gildemeister - NEF 520
Hitachi Seiki HG400 III
Hitachi Seiki VS50
HAAS EC300
HAAS VF11
HAAS VF2 (2 pcs)
Kimtech (Water jet cutting)
Mori Seiki NL2000SY (2 pcs)
Mori Seiki NL2500MC
Mori Seiki NMV 5000 DCG
Schaublin 102
Unisign Univers 5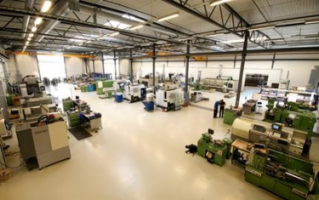 Tronrud Engineering AS
Flyplassveien 21, N 3514, Honefoss, Norway
+47 32 16 18 20
mail@tronrud.no