Last Update
July 18, 2022
Categories
Composites, Plastics & Rubber
Mechanical, Electro-mechanical, Hydraulic and Pneumatic components
Services (R&D, training, engineering, consultancy, …)
CompoTech, provides competitive advantage in structural composite tubes to the world's leading companies. The company specializes in design, product development and manufacture of high performance FW composite tubes for industrial applications, drive shafts, hydraulic and pneumatic cylinders.
CompoTech's carbon and glass composite tubes are highly engineered and manufactured using a unique zero degree axial fibre laying process, which has been developed over the past ten years through extensive research, analysis and practical application. All CompoTech products are capable of directly and/or indirectly achieving some or all of the following:
Reducing weight
Reducing labour time
Reducing the number of components
Reducing cost
Increasing longevity
Increasing performance
Enabling productivity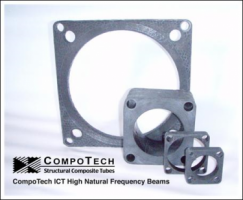 Contact info #1
Druzstevni 159, Susice 34201, Czech Republic
SQUARE BEAMS
The CompoTech beams are a Graphite and Carbon Nano Tube Epoxy Composite and come in several sizes. They have integrated corner tubes for easy connection to other parts and/or conduits for services.
A unique sensing option can be incorporated to make the beam a "Smart Structure". The designs can be easily varied to suit the customer and the production method enables short lead times, little wastage and competitive pricing.
Product informational files
THERMALLY STABLE CUBE
A Frame for High Precision Optical Instruments made with high Modulus Graphite Carbon Fibre Beams.
The framework of the cube is made from CompoTech Beams that were specially designed to have zero thermal expansion in the longitudinal direction and near zero across the section.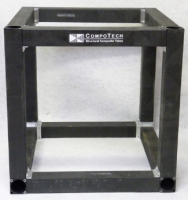 Product informational files
DESIGN & ENGINEERING
Using the latest computer aided tools and bespoke software, CompoTech engineers are expert in the design and analysis of the material structure of composite tubes.
The company uses two main types of data analysis, which CompoTech developed in conjunction with the Czech Technical University in Prague. The first uses a simple yet precise two-dimensional data preparation to enable different loads, such as bending moment, torque, axial force and thermal load, to be solved together.
This method is powerful enough for most composite tube applications and has been verified by full destructive tests. The second is a solution for precisely calculating three-dimensional stresses in a tube, in particular the stress gradients through the thickness of a laminate. However, the disadvantage is the more complicated three dimensional lamina data preparation, which only solves one load state, that of bending moment.
CompoTech is, however, currently developing a solution using this method for three load states, those of bending, torsion and axial force.
PRODUCTION CAPABILITIES
CompoTech has developed and built its own fibre laying machines, including control software, systems, and supporting machines, which, in conjunction with the extensive design and engineering capabilities, enable CompoTech to offer a high quality solution to its customers.
CT5000-a light, single spindle machine designed for production of lighter products, up to 30kg in weight, 5000mm in length and 190mm in diameter
CT8000- a two spindle, high productivity machine designed for the production of heavier tubes, up to 400kg in weight, 8000mm in length and 450mm in diameter (using both spindles) or 1500mm in diameter (using one spindle)
Shrink tape wrapping machine
Hydraulic extractors
Computer controlled ovens
Trimming/cutting machines
Lathe- capable of turning carbon tubes and shafts up to 3000mm in length and 450mm in diameter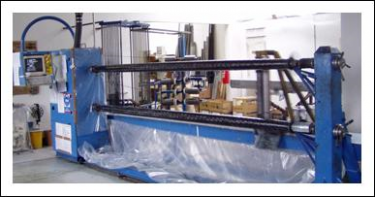 CompoTech Plus spol. s r.o.
Nová 1316, Sušice 34201, Susice, Czechia
+420 376 526 839
+420 376 522 350
Enquire@CompoTech.com