Last Update
September 14, 2018
Categories
Composites, Plastics & Rubber
Electrical, Electronics & Electro-optics
Mechanical, Electro-mechanical, Hydraulic and Pneumatic components
Metal Processing, Parts & Components
Services (R&D, training, engineering, consultancy, …)
Main target of Technoplast Prototyping Kft. is to offer a complex service for its costumers in the field of plastic production and metal processing.
The company specialises in design and production of parts by rapid prototyping using SLA, RIM and vacuum casting methods, tool making, production of injection-moulded plastic and metal parts in small and large series as well as mounting of complete equipment and machine units.
Fields of activities:
Complex services in the field of processing plastic materials:
design
rapid prototyping
manufacturing of injection moulding tools
processing of plastic materials
Metal-working:
forging, casting and sheet-shaping tools
low- and high-volume manufacturing of parts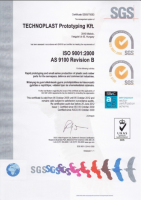 Contact info #1
H-3540 Miskolc, Vasgyari ut 43., Hungary
ELECTRICAL CONNECTORS
Technoplast produces electrical connectors of individual construction by rapid prototyping in small and large series for testing equipment of engines and transmissions.
The assortment of materials offers a wide range of solutions according to the actual task with following features:
materials like PP, PPS, PEEK, ABS, PA, POM, PMMA, PS
rubberlike materials from Shore A 25 to Shore A 95 hardness
heat resistance even up to 150 oC
use of materials with high heat stability or flameproof materials
materials with high electric resistance
UV-proof materials
glass-fibre reinforced materials with enlarged strength
Product informational files
INJECTION MOULDING PARTS
Technoplast produces injection moulding parts for the automotive and the medical industry.
The company has more than twenty-five years experiences in this field.
We have 11 Battenfield machines. The clamping force are between 25-200 To. The maximum weight of the produced parts is: 520 gramm.
Reference: Flextronics, Delphi, BOSCH, TEVA
SMALL SERIES PARTS
Technoplast Prototyping Ltd. has started small series and volume manufacturing of individually designed tool boxes, devices, construction jigs, testing cables.
Due to wide selection of our materials our products can be utilised at the most different operational conditions. They are used in automotive industry, electronics, precision engineering, health care and agriculture alike. Their special shape and dimensions, determined by clients' requests, allow different mounting possibilities too. In accordance to customer's requirements various connecting and operating parts can be developed.

Small series parts are being manufactured based on rapid prototyping technologies, with extremely short deadline. Utilised raw materials are manufactured by French company AXSON and have characteristics which correspond to characteristics of injection moulded materials.
Product informational files
RAPID PROTOTYPING
Essence of the method is that in phase of development before starting series production Technolplast manufactures a product having properties equal to the original part in a possible shortest time and at a possible lowest cost.
After completion of a 3D surface model the company produces a masterpiece by SLA laser technology and using this piece we produce plastic and rubber parts within hardness limits of 25-95 Shore by vacuum and RIM casting technologies.
French Axson material quality used is equal to or very similar to injection-moulded plastic parts.
Using additives glass-fibre reinforced, shock-resistant, flameproof, UV-stabilised features can be reached.
Parts manufactured by rapid prototyping are used first of all by automotive and electronic industry.
Mounting and mechanical tests are performed on these parts as well as first exhibited cars and other equipment are built from these parts.
Technoplast is using four different rapid prototyping processes:
SLA - Stereolitography
VACUUM CASTING - gravitational vacuum casting
RIM - low-pressure injection moulding
MOULDING - low-volume injection moulding
Technolpast is a first-level suppliers of the Hungarian AUDI, BOSCH, ZF, VALEO, of the Polish DELPHI and other German companies producing prototypes.
The company is a second-level suppliers of all European car factories and of the largest European suppliers of automotive and electronic parts. It also supplies more than 60 companies of automotive and electronic industry ( Audi, VW, BMW, Porsche, LEAR, Leoni, etc... ).
We have produced parts for Formula-1 racing cars of TOYOTA as well.
Complete mounted and working units and equipment are also produced (BMW air-conditioners)
We produce more than 45.000 pcs per year of various plastic prototype parts.
DESIGNING
Programs used for the design of plastic and metal parts, tools and jigs: DELCAM, CATIA V4, CATIA V5, PRO-E, AutoCad.
Reference: AUDI Motor Hungaria Tool Factory
MACHINING
Machine List
Max.machining size
Tolerance
x
y
z
1. CNC milling machines
CNC Working center STRIGON MC 1250
1600
950
600
+/- 0,04
MAHO DECKEL 103V
1000
800
600
+/- 0,02
FMC
1000
800
600
+/- 0,02
FIRST MCV-1000
1020
510
510
+/- 0,02
FIRST MCV-2000
2050
1150
760
+/- 0,02
2. CNC-turning machines
GILDEMEISTER CT40+TOPPER BF-1500
400
540
+/- 0,02
FEINBAU PM1+TOPPER BF-1500
20
120
+/- 0,02
FEINBAU SNC-100+TOPPER BF-1500
125
250
+/- 0,02
FEINBAU SNC-100+TOPPER BF-1500
125
250
+/- 0,02
3. Horizontal milling machines
TOS/W100
1100
1000
1500
+/- 0,05
4. Universal milling machines
ØY251
700
250
350
+/- 0,05
X8130
400
200
400
+/- 0,05
FUS 32
450
400
300
+/- 0,05
5. Grinding machines
GM 35724
550
200
240
+/- 0,01
GM5030
500
300
200
+/- 0,01
GM 55032
750
Ø250
+/- 0,01
RSM 1000
1000
Ø250
+/- 0,01
NUA-25
500
250
250
+/- 0,01
6. Universal turning machines
SCHALTE 1000/400
1000
Ø400
+/- 0,05
CA 6240
750
Ø400
+/- 0,05
SN 400 S
1500
Ø400
+/- 0,05
M 300
1000
Ø250
+/- 0,05
7. Boring machines
RF50/1600
1600
1000
1000
+/- 0,05
RF50/1000
1000
Ø 50
+/- 0,05
8. EDM machines
SINITRON AT-450
550
350
600
+/- 0,03
9. CMM Control machines
ETALON DERBY 454
470
570
400
0,003
10.Design equipment
DELCAM
CATIA
PRO-E
11.Tooling
MANUFACTURING OF PROTOTYPE PARTS
First-tier supplier and second-tier supplier:
Audi, Alphaform AG, Automotive Lightning, Bosch, BMW, Delphi, Lear
Denso, Leoni, Porsche AG, Decoma, Liebherr, Draxlmaier, Initial SA
Siemens AG, Seima, Montaplast, Dr.Schneider, Möller Tech, Woco
Visteon, New Holland, Jenoptik Jena, Carl Zeiss Oberkochen, SAI
Altenkirchner,Alfred Karcher, Genion, Borgware, Johnson, Sellner
Schefenacker, Webasto, Carl Zeiss Jena, Autoliv, Severin, Westfalia
Technoplast Prototyping Kft.
H-3561 Felsőzsolca, Bódva u. 7. , Miskolc, Hungary
+36 46 379 308
+36 46 402 523
info@technolast.hu