Last Update
September 3, 2018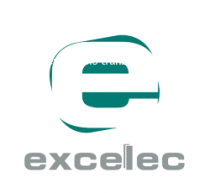 Categories
C4I, Communication Systems
Electrical, Electronics & Electro-optics
EXCELEC S.A.S., was founded in 1982 in Medellin and since then has been dedicated to the manufacture and commercialization of electronic equipment for banks. Since its founding, the Company has been manufacturing home banking terminals and Point of Sale applications, as well as software for remote banking which have been proven to be a huge success for the company during the years.
Among EXCELEC S.A.S.'s portfolio of products are:
•RFID devices supporting contactless cards for toll payments and high traffic transport applications.
•Digital Communication Systems.
•Wireless Communication Systems.
•Digital Control Systems.
More than 20 years of experience in the manufacturing sector have given EXCELEC S.A.S. the ability to manufacture electronic products with un-compromised quality and functionality.
Overall, the Company offers the following services:
•Electronic Design Services,
•Electronic Circuits Design,
•Plastic Case Design Services,
•Engineering Services,
•Board Manufacturing with TH or SMT technology.
Contact info #1
Cra. 48#48 Sur-75 of 156, Medellin, Colombia
Electronic Design Services
With more than 15 years of experience in product design, EXCELEC S.A.S. offers electronic design using CAD software and 3D programming.
The Company specialises in the design and manufacture of electronic circuits with the support of leading manufacturers, such as NXP (Philips), TI, Freescale, Teridian etc. Its stereolithography rapid prototyping services allow for product testing before the mold manufacturing stage.
Simulation Services
EXCELEC S.A.S. offers simulation services for the manufacture of molds through CNC digital technology.
Firmware Development
EXCELEC S.A.S. has a great experience in firmware development, namely:
Assembler and C programming languages,
Encryption protocols, DES, triple DES and RSA encryption algorithms, etc.,
Remote software updating,
Communications protocols,
Smart card readers and payment methods.
Application Software Development
EXCELEC S.A.S. has a great experience in application software development, namely:
C ++ and art tools,
Information security solutions,
Payment methods,
Smart card solutions,
Banking protocols,
Diagnostic and testing programs.
3D Design of Plastic Cases
EXCELEC S.A.S. specialises in the 3D design of plastic cases using CAD software. Consulting services on ICIPC - Integrated Core Injury Prevention and Control for the use of the most suitable plastic materials are also available.
The stereolithography rapid prototyping allows for product testing before the mold manufacturing stage.
Software Support Services
EXCELEC S.A.S. has a support department specializing in software support services to ensure the proper operation, maintenance and upgrade of its products.
Hardware Maintenance
EXCELEC S.A.S. has a group of technicians with a long experience and an excellent performance in the field of hardware maintenance.
POS Terminals
EXCELEC S.A.S. offers a wide range of banking and POS terminals to satisfy even the most demanding customers.
The Company's POS portable and fixed terminals include features, such as:
Powerful operating systems that make programming very easy,

SKD option,

Cable and wireless communication features, such as wired phone line, GSM, CDMA, iDEN, Bluetooth and Wi-Fi,

LAN options, such as Ethernet and RS-485,

Input options, such as internal barcode readers,

Cards and check readers, such as magnetic card readers, smart card readers, contactless smart card (RFID) readers, check readers,

Ability to connect to thermal or impact printers,

Battery or wire power option.
RockPOS RP-5: The RockPOS RP-5 is a bank terminal for credit/debit card transactions. The RP-5 was designed for portable use with communication options, such as GPRS, Wi-Fi and Ethernet among others. The RP-5 is certified under the PCI and EMV standards and can communicate with any transaction switch already available, or operate with the RockServer software as a backend system.
PIN-Path PP1000: Pin-Path PP 1000 is the safe and confidential PIN (Personal Identification Number) Transaction Security Device for secure financial environments. Pin-Path PP 1000 is a part of EXCELEC S.A.S.'s Pin-Path series and allows customers to safely handle PIN numbers under international security standards.
Features:
Hardware encryption,

4 SAM modules,

Double track magnetic band readers,

Contact smart card reader,

Graphic display,

Real time clock,

Numeric keypad options,

Cursor keys.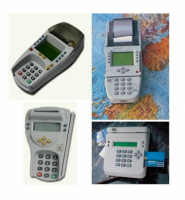 Product informational files
RFID Products
RFID technology has many industrial and commercial applications. EXCELEC S.A.S.'s products are commercially oriented and feature state-of-the-art circuits. EXCELEC S.A.S. has been manufacturing RFID products for more than 5 years with the support of companies, such as Mifare and Phillips.
MINIMED: MINIMED is the most compact and economic RFID terminal. It is equipped with LEDs instead of an LCD display and can be used in access control and class attendance control systems, among others.
MEDIUM I: The MEDIUM-I system is the Company's RFID flagship. It is midsized, price efficient and ideal for access control (includes software) and fare collection purposes. MEDIUM I is a contact-less smart card terminal with a wide variety of features. It can be used in fare collection and access control systems and is complemented with a backend software that makes it ideal for amusement parks and transport systems.
MEDIUM I can function as a standalone system and includes features, such as a powerful ISO 14443 reader/writer, graphic display, real time clock and a wide variety of communication options.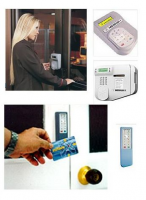 Product informational files
ATMs: Tarjetamatic
TARJETAMATIC is a secure self-service ATM station for invoice payment. It is intended to be used as an unattended financial information center.
This ATM provides an alternative way of payment to highly congested bank branches. Balance checks and invoice payment are some of the transactions that can be performed by the ATM. It has a robust thermal printer and a presenter to avoid paper jams and there is an optional bar code reader for invoices.
Product informational files
Kilowatt Meters
PPKW: The PPKW (Pay Per Kilowatt) is a two-part electric meter for power measurement. The PPKW can be configured for off-line operation or wireless communication under the concept of AMI (Advanced Metering Infrastructure).
The PPKW was developed as a result of the cooperation of EXCELEC S.A.S. and the utility company EPM. EXCELEC S.A.S. is in charge of the manufacture and marketing of the PPKW. The PPKW operates under the STS standard. The STS is now an IEC standard and is the most widely used electricity pre-payment standard in the world.
TOTALOGGER: TOTALOGGER is a telemetry equipment for measuring three-phase electric power consumption. The system works in real time sending information to the TOTALOGGER backend software. TOTALOGGER is suitable for measuring technical and non-technical losses in circuits.
ILUPLUS: ILUPLUS is the only photocell system for street light control. ILUPLUS is a smart and wireless system for the remote monitoring and management of street lights.
Advantages:
Cost saving,

Increases customer and user satisfaction,

Decreases the time between failure and repair,

Early fail prediction,

Monitoring of electrical network conditions,

Smart power saving configuration,

Low communication cost,

Low installation cost,

Compatibility with industrial standards.
Product informational files
Fixed & Mobile Technology
FIJOCEL: FIJOCEL is ideal for countries where calling from a regular phone to a cell phone is expensive. This product converts the cell phone line into a regular phone line that can be connected to a telephonic switchboard or hybrid phone system. It can also be used as a "virtual wire" to provide phone services to rural areas so that customers can use regular fixed line phone devices. Bill savings can be reduced by 80%.
At the moment, there are many cellular phone models compatible with FIJOCEL and some new models are being added to the list of compatible phones.
COMMVERSA: COMMVERSA is a control device for a series of phones that enables phone companies to offer their services in group to branch offices or places, such as small supermarkets, shopping centers, transport terminals, etc.
COMMVERSA is available in two sizes: The smaller model can control up to two voice stations and one internet access point. The large model is capable of controlling up to 20 voice stations.
Product informational files
Controllers for Appliances
EXCELEC S.A.S. manufactures controllers on demand for home appliances, namely:
Refrigerator controllers with a 7 segment display,
Water heater controllers with a LCD display,
Refrigerator thermometers with LEDs.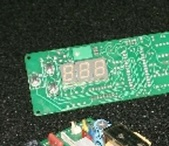 Fare Collection & Access Control Systems
TransAccess®: The powerful TransAccess® software is the core of a robust and trustable fare collection system that can be used for fare collection in buses and the public transportation in general.
The software is linked to card rechargers and terminals to control access to stations, trains and buses.
The system's configuration is very flexible giving the user the option to choose among many channels of communication, including Ethernet and wireless communication.
TransAccess® is suitable for:
Access Control,

Fare Collection,

System Statistics,

System Auditing,

Administrative Functions.
Product informational files
Banking Software
For every hardware product the Company manufactures, there is a wide variety of software available, including operation systems, application programs and premium backend systems.
EXCELEC S.A.S. develops high technology banking software for remote banking. Its backend systems are affordable and flexible. The Company has backend systems for its POS terminals, remote banking systems and medium access control systems.
TransAccess®: TransAccess is a fare collection software that is used in conjunction with the MEDIUM-I terminals.
Rock-e-Feller: Rock-e-Feller is a software-only solution for remote banking.
RockServer: RockServer is the backend software for POS terminals.
Older Products
ATM-1: ATM-1 can be used as an automated teller machine for counting business hours or a multipurpose kiosk with cash dispensing capabilities. ATM-1 has low to medium number of transaction capabilities and is intended for indoor places where regular ATMs are too expensive to be installed.
It can be installed in small markets, bank branches, and in the reception of companies so that employees that receive electronic payment, be able to receive cash. The heart of the ATM-1 is a dispensing mechanism manufactured by a leading manufacturer of cash dispensers, thus guaranteeing accuracy and dependability.
RP-2: The RP-2 terminal is a versatile, portable, configurable, and wireless terminal. It is ideal for customer self-service, loyalty cards and credit debit approvals. RP-2 has a smart card reader, magnetic stripe reader, alphanumeric display, RS485 and RS232 ports and 14.4 Baud internal modem. There is an option for many peripherals, such as barcode readers, CDMA, iDEN and GPRS, among others.
RP-3L: The RP-3L terminal is a versatile, portable, configurable, and wireless terminal. RP-3L is perfect for mobile applications, such as food delivery, freight and courier services. RP-3L is also ideal for applications where fixed phone lines are not available, namely flea markets, trade shows, and many more. RP-3L can be battery or power operated. It has a built-in thermal or impact printer, a 14.4 baud modem, an RS485 port for network connection, and many other features.
MEDIUM-II: The MEDIUM-II terminal is equipped with a contact-less reader-writer, smart card reader-writer (Contact type) and magnetic stripe reader. This generous configuration is complemented with a heavy duty printer. MEDIUM-II is programmable in C language and allows for remote programming.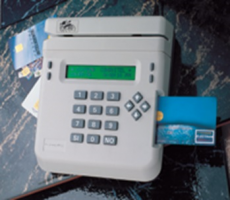 Product informational files
Advanced Equipment & Personnel
In EXCELEC S.A.S., all products are developed with the latest and most advanced technology available from the design to the production stage.
The design of plastic parts is made using 3D CAD/CAM software enabling the Company to evaluate products before the stage of production.
The Company's manufacturing plant is equipped with advanced equipment and very skilled personnel. In-house manufacturing gives the Company the capacity to directly control the quality of its products.
EXCELEC S.A.S. has been using lead free solder in all its products for more than 5 years. The most important electronic manufacturers around the world are just starting to adopt a lead-free technology.
Main Clients
Among EXCELEC S.A.S.'s most distinguished clients are:
• CONAVI,
• EPM,
• COMFAMA,
• CONCESION TUNEL ABURRA-ORIENTE S.A.,
• BANCOLOMBIA
• BRADESCO,
• DAVIVIENDA,
• SUSALUD,
• INTERBANK,
• BANRESERVAS,
• MITSUBISHI ELECTRIC,
• BANCO BHD,
• MOTOROLA,
• MOVIBUS,
• ÉXITO,
• OTIS,
• EXPRESO SIDERAL,
• METRO DE MEDELLIN,
• LG,
• SUFI,
• FALABELLA.COM,
• EPSON,
• VISIONAMOS.
Excelec S.A.S.
Cra 50 N 79Sur-35 4th floor Medellín, Medellin, Colombia
+57 4 301 2222
+57 4 288 7611
info@excelec.com