Last Update
September 4, 2018
Categories
Infrastructure, Construction & Civil Engineering
Mechanical, Electro-mechanical, Hydraulic and Pneumatic components
Metal Processing, Parts & Components
Services (R&D, training, engineering, consultancy, …)
Gonvarri Colombia, previously known as Industrias Ceno, with over 50 years of experience, stands out as a leader organization in the metal-mechanic sector. The Company has six business lines that supply various sectors of the economy, such as the industrial, cement, construction, electrical, commercial, agricultural, petroleum and telecommunications sectors.
The experience and versatility reflected in Gonvarri Colombia's wide range of products, the strict compliance with the applicable design standards, the state-of-the-art production technology and the quality processes in compliance with NTC/ISO 9001 are the Company's best warranty towards their customers.
Gonvarri Colombia offers a wide range of products and services through six different business lines that aim to satisfy the different needs of their customers:
ESTRUCTURAS METALICAS - Steel Structures,

MECANO - Cable Tray Systems,

ALMACENO - Warehousing Racks and Material Handling Systems,

CENOVIAL – Highway Guardrails,

MF - Light Construction Systems and Profiles,

SERVICIOS DE RECUBRIMIENTO - Hot-dip Galvanizing Baths and Electrostatic Powder Painting Processes.
MISSION
Gonvarri Colombia is a design and manufacturing company focused on meeting the infrastructure and material management needs of every sector of the economy. The Company is committed to supplying customers, associates and shareholders with quality solutions under the principle of environmental responsibility.
VISION
Gonvarri Colombia aims to be an innovative and profitable business group focused on providing integrated solutions for the transportation of data and energy, road safety and storage logistics backed up by cutting-edge technology.
INTEGRATED MANAGEMENT POLICY
To guarantee customer's satisfaction based on a continuous improvement culture that vouches for high-quality products that comply with customers' specifications with the support of competent and motivated employees and a permanent innovation process. All this under the principles of environmental protection, employee safety and corporate social responsibility.
Contact info #1
recheverri@industriasceno.com
Barranquilla (Colombia) Manufacturing Plant - Northern Regional Office: Parque Empresarial Rio Norte, Interseccion Via 40 Circunvalar
Steel Structures
Gonvarri Colombia has ventured into the metal-mechanic sector by developing important design and installation projects and has managed to achieve national and international recognition as a company with a high level of engineering expertise.
Currently, Gonvarri Colombia through its subsidiary ESTRUCTURAS METALICAS manufactures the following metal structures:
• Roofing Structures,
• Steel Structures,
• Silos and Tanks,
• Parking Steel Structures,
• Steel Grilles,
• Special Projects.
For over 30 years, the Company has managed to penetrate the cement, electrical, and industrial sectors in countries such as Mexico, Costa Rica, Nicaragua, Honduras, Panama, Dominican Republic, Venezuela and Ecuador.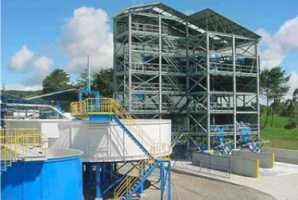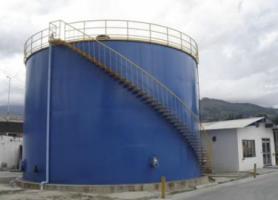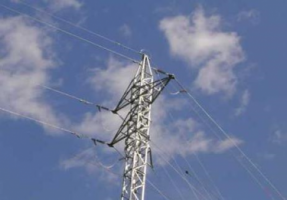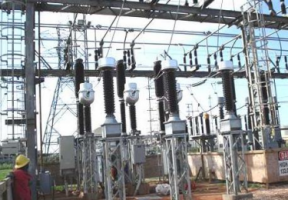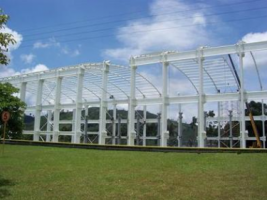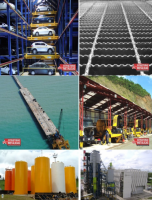 Product informational files
Cable Tray Systems & Accessories
Gonvarri Colombia, through its subsidiary MECANO offers cable tray systems in compliance with the most strict quality standards of the sector. The Company's production capacity has allowed them to participate in large national projects with the production of:
• Cable Tray Systems,
• Software for the Design of Cable Trays,
• Bus Bars,
• Profiles,
• Clamp Nuts,
• Couplings,
• Pipe Fasteners.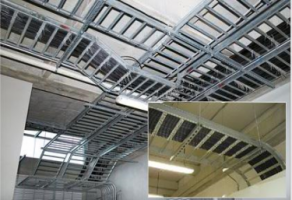 Product informational files
Integrated Storage Solutions
Gonvarri Colombia specialises in the design, manufacture and installation of storage systems, under the ALMACENO brand. The Company designs integrated storage solutions, guaranteeing space optimization and the best material handling practices:
• Flow Storage Solutions,
• Selective Storage Solutions,
• Drive Storage Solutions,
• Mezzanine Storage Solutions,
• Cantilever Storage Solutions,
• Light-Load Storage Solutions.
Τhe Company's designs comply with the requirements of the PMI international certification and the Colombian NSR-98 standard.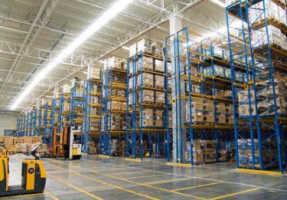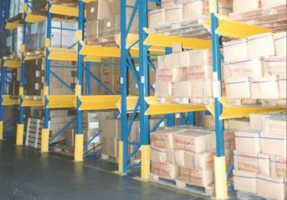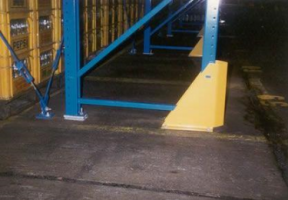 Product informational files
Road Safety Applications
Gonvarri Colombia, though its subsidiary CENOVIAL offers excellent quality road safety applications, such as:
Road Restraint Systems:
• Road Guard Rails
• Guard Rail End Terminals:
- X-LITE Guardrail End Terminals
- X-Tension Guardrail End Terminals
• W Beam Terminal Connectors for Rigid Barriers and Semi Rigid Barriers
• Barrier Systems:
- X-TENuator Crash Cushions
- TAU-II Crash Cushions
- DR46 Barrier Systems
- Raptor Barrier Systems
Vertical Road Signage:
• Preventive Road Signs
• Warning Signs
• Informative Traffic Signs
• Temporary Traffic Signs
Road Safety Services:
• Road Safety Audits
• Measurements:
- Measurement of Transverse Friction Coefficient (CRT)
- Measurement of the International Roughness Index (IRI)
- Measurement of Pavement Deflections
• Real Time Traffic Feed and Statistics
Road Installation Services: The Company offers installation services for different road safety elements, such as: metal guard rails, barrier systems, guard rail end terminals, Michigan guard rail end terminals, etc.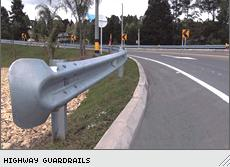 Light Construction Systems & Profiles
Gonvarri Colombia, offers high quality light construction systems and profiles in galvanized steel in different dimensions that comply with the requirements of the NTC 4011, ASTM A653, and ASTM C955 international standards.
Product informational files
Steel Coating Services
Gonvarri Colombia through its subsidiary SERVICIOS DE RECUBRIMIENTO offers steel coating services, such as:
Hot-Dip Galvanizing Services:
Gonvarri Colombia's 23,000 m2 main production plant, located in Medellin, Colombia, has a specialised area for hot-dip galvanizing and continuous electrostatic powder-paint processes.
Gonvarri Colombia's hot-dip galvanizing bath plant, is one of the most modern plants in Latin America. The Company offers its galvanizing services to third parties, as with its production capacity it can meet customers' needs in a fast and efficient way.
Gonvarri Colombia's processes comply with ASTM-A123 and ASTM-A153 quality standards.
The hot-dip galvanizing steel process provides an efficient abrasion protection to the parts the Company manufactures.
Electrostatic Powder Coating Services: Gonvarri Colombia specialises in electrostatic powder paint processes that meet customers' highest quality standards.
This is a great added value service: It offers great durability, excellent finishing, 100% adhesion, high flexibility and hardness, high resistance to physical and chemical agents and optimal coat thickness.
Hot-Dip Galvanizing Baths: Gonvarri Colombia specialises in hot-dip galvanizing baths and is equipped with the most modern plant in the country.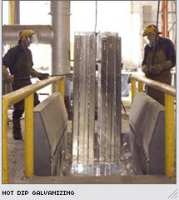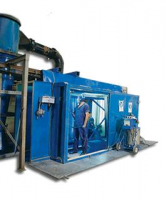 Product informational files
Gonvarri Colombia
Carrera 59 No. 66-86 Oficina 110, Barranquilla, Colombia
+57 5 311 2700
+57 5 311 2700 Ext. 9