Last Update
June 13, 2023

Categories
Metal Processing, Parts & Components
Ships, Vessels, Submarines & related equipment
Dockstavarvet is a leading producer of aluminium boats for professional use in Scandinavia and on the international market. The company was founded by N. Sundin in 1905 and is now operated by the third generation. The first aluminium boat was built in 1969 and the first aluminium pilot boat was delivered in 1975. Dockstavarvet has been engaged in the development and serial production of advanced, highspeed patrol boats for military and non-military applications on three continents since 20 years with over 200 units delivered to date.
Product range
Combat and Patrol Boats - Modern Patrol Boats are now used by a number of authorities, Military and Non-military and, depending on duties, the requirements on the vessels differ.
Pilot Boats - The increasing public awareness of the environmental consequences of an accident at sea has turned the spotlight to one of the most important professions in accident prevention. It is the pilot organisations.
Rescue Vessels - Search and Rescue (SAR) is probably one of the eldest missions at sea and, depending on country, has been operated under different authorities since the 19th century.
Fire Fighting - Based on the CB 90 H technology Dockstavarvet has developed two Sea Truck type high speed workboats of 15 and 18-meter length.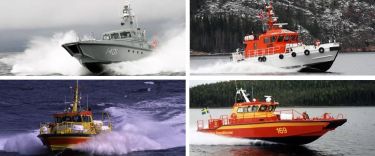 Dockstavarvet AB
SE-870 33, Docksta, Sweden
+46613711600
+4661340466
info@dockstavarvet.se