Last Update
September 7, 2018
Categories
Mechanical, Electro-mechanical, Hydraulic and Pneumatic components
Metal Processing, Parts & Components
Ships, Vessels, Submarines & related equipment
Dominis, is a Canadian Company which develops the necessary tooling, fixtures and CAD/CAM programming for design, measurement and CNC milling of parts such as propellers, impellers and turbine runner blades to final form and finish. The Company's facilities include large 5-axis CNC mills, boring mills and lathes as well as a full complement of inspection instruments. Dominis is certified under quality standard ISO 9001:2008. The Company has over 25 years of experience in meeting client needs.
Dominis' proprietary 'IPMS' (Integrated Propeller Manufacturing System) can efficiently generate complex surfaces which do not require hand polishing: Can eliminate surface waviness and can keep scallop height below 0.01mm, its expertise can be applied to development of new products, cost effective production of high performance components, repair and refurbishment.
Products & Services
Production CNC Milling
Propulsion Systems: Propeller Blades, Water Jet Impellers, Propellers.
Turbines: Blades (Kaplan and Francis), Pelton and Francis Runners.
Compressors and Pumps: Impellers, Vanes.
Development Services
Prototype Development.
Tooling for Manufacturing.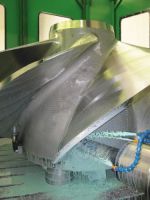 Dominis Engineering Ltd.
5515 Canotek Rd., Unit 15, K1J 9L1, Ontario, Gloucester, Canada
+16137470193
+16137463321