Categories
Textile, Individual Equipment, Clothing
Ballistic Protection
MARS Armor® is an innovative Bulgarian company specialized in the manufacture of body armour for protection against bullets, fragments and cold steel. MARS Armor® is known on the domestic and international market as a company that uses advanced solutions in the field of ballistic protection. Extensive research of the impact of high and low speed bullets on different materials allows them to produce and offer customers lightweight means of individual ballistic and stab protection.
MARS Armor® is a modern private company with an integrated CAD/CAM system for design, analysis, manufacture and testing of the products with all the information being collected into a unified electronic environment. CAD-CAM processes are widely used in the manufacture of bulletproof vests, which are designed to protect and cover the greatest possible area of the body by providing full coverage of the torso, including shoulders, neck and groin areas. The company is able to raise the level of protection by improving the ballistic panels and armour plates, according to the customer requirements.
The company has also integrated an ERP (Enterprise Resource Planning) system that enables reliable management of the business processes and resources of all operational levels. With this system the processes of design, development, manufacturing, testing, quality assurance, delivery, sales, finance and accounting become easy to manage and control, and also completely transparent.
Along with the standard body armour models, MARS offers possibilities to satisfy the individual customer requirements like colour, size, and separate models for men and women. The Mars Armor® bulletproof vests are tested both in their own fully equipped ballistic laboratory and in various accredited laboratories around the world, which ensures the reliability of the proposed means of individual ballistic protection.
MARS Armor® performs the activities of development, production, testing and delivery of materials and means for ballistic protection in an integrated operating and certified management system meeting the requirements of the international standards: ISO 9001: 2008 - Quality Management system; AQAP 2110 - NATO requirements for quality assurance of design, development and production; ISO 14001: 2004 - Environment management systems. The company has assigned NCAGE code 0053U as a manufacturer / trader in the NATO codification system. Much of the means for individual ballistic protection in the nomenclature of the company have obtained a NATO Stock Number (NSN).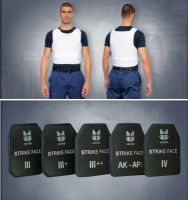 MARS Armor
2230 Konstinbrod,Industrial Zone , Poleto, Bulgaria
+35924399088
+35924390611
web@marsarmor.com