Categories
Counter-measures, Electronic Warfare and Decoys
The main task of Zakłady Metalowe MESKO SA is supplying the Polish Armed Forces as well as other units responsible for national security with highly advanced and high quality ammunition and missiles.
The company provides a wide range of services through its Tools and Overhaul Plant, which functions within Mesko structures. This plant successfully produces complex equipment, machines and even complete ammunition assembly lines.
MESKO started its production operation in 1924 as the State Ammunition Factory. Between World Wars the factory was one of the biggest military factories in Europe. After WWII the company's employees reclaimed and renovated most of the plundered machines and equipment. Since then, the production for the benefit of the Armed Forces as well as the civilian market started. As a result of the restructuring process taken place in the 1990's, the civilian production was handed over to smaller companies, which allowed Mesko focus on its prime business, at the same time expanding it to foreign markets.
In 2003, the agreement between the Israeli company RAFAEL, MESKO and the Polish MOD regarding SPIKE missile production was signed. Two years later Mesko joined BUMAR holding group.
MESKO is ISO 9001:2008, 14001:2004 and AQAP 2110:2009 certified.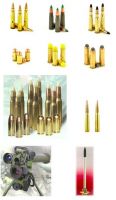 Mesko Spolka Akcyjna
122 Legionow St, PL 26-111, Skarzysko-Kamienna, Poland
+48 412 533001
+48 412 520280
info@mesko.com.pl