Last Update
August 22, 2018
Categories
Electrical, Electronics & Electro-optics
MilDef consists of MilDef AB and MilDef Systems in Sweden, MilDef Limited in the United Kingdom and MilDef Crete in Taiwan. MilDef develops, manufactures and sells rugged computers and special electronic to customers in the defence sector. This ranges from rugged laptops and tablet PCs to servers & computers, routers and network equipment.
The company's products are built to survive the rigors of combat in any environment from scorching desert heat to severe arctic winds. But withstanding the elements is far from the only challenge. There is limited space and weight capacity to get in all the required functionality while being prepared for future developments. MilDef´s mission is to constantly push the bar higher for getting the most performance per square inch with innovative compact units. MilDef equipment is also designed to reduce energy consumption and heat production, be highly mobile and easily upgradable. Because being flexible is as vital as being able to take a pounding.
MilDef is ISO 9001:2008 certified.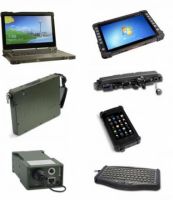 MilDef AB
Muskötgatan 12, S-254 66 , Helsingborg, Sweden
+4642250000
sales@mildef.com