Last Update
February 7, 2017
Categories
Electrical, Electronics & Electro-optics
Radiotechnika Marketing Sp. z o.o. focuses on the production and distribution of specialised electronics. The company is located in the area of Wroclaw, Poland and their traditions reach back to pre WWII times, when their predecessors in Vilnius-based company Elektrit designed and produced radios. Today Radiotechnika Marketing's customer range spans from military system integrators to companies active in several other industrial sectors. The main areas of the company's activities are: military harness - custom assembled in their harness shop, fibre optics - including systems based on CTOS expanded beam connectors, military power supplies and EMC testing performed in their own EMC laboratory.
Radiotechnika Marketing offers: electrical cable harness and fibre optic harness systems, designed and produced according to customer requirements; hybrid cables (fibre optics + copper); media converters; Amphenol connectors – military connectors, series: D38999 and VG95234 from their own assembly; EMC lab services, EMI filters, EMC filters, TEMPEST filters, testing according to military norms such as MIL-STD-461 and others; inverters, converters, power supplies; harness components, such as heat shrink tubing and polyswitch.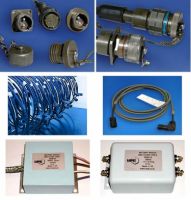 Radiotechnika Marketing sp. z o.o.
Fabryczna 20 street, 55-080, Pietrzykowice, Poland
+48 713 270700
+48 713 270800
office@radiotechnika.com.pl