Categories
Ships, Vessels, Submarines & related equipment
Maintenance Repair Overhaul and Logistics Support
Vympel Shipyard JSC is a fast-growth company building medium-tonnage and light sea and inland waters vessels and boats intended both for naval and civil application. Since its foundation in 1930, VYMPEL Shipyard had produced more than 30 thousand ships of various types. During the last 40 years more than 1800 boats has been delivered to customers in 29 countries of Europe, Middle East, South East Asia, Africa and South America.
Vympel produces new generation attack missile and patrol boats, fast search-and-rescue, fire-fighting, inshore survey, fishery vessels, tugs and other types of vessels. Vympel Shipyard's substructure, production assets, technological and personnel level enable them to build, convert and repair combatants and civil vessels made both of steel and aluminum- magnesium alloys with launching weight of up to 1500 t, as well as to fulfil ship borne orders and to produce volumetric steel constructions for general use.
ATTACK BOATS
KATRAN missile gun boat project 20970 - It is intended for observation and patrolling to suppress illegal navigation and smuggling in littoral sea areas, interception and inspection of violating vessels.
SCORPION MISSILE / GUN BOAT Project 12300 - It is intended to destroy hostile surface combatants, boats and transports both independently and jointly with fleet attack forces.
MOLNIYA missile boat Project 12421,12418 - It is intended to engage hostile surface combatants, transports and landing ships in the littoral zones and open sea areas.
MIRAGE fast patrol boat Project 14310 - It is intended to: safeguard exclusive economic zones and national territorial waters; support activities of maritime control areas (vessel inspection, maritime law enforcement and customs operations etc.); combat drug-trafficking, smuggling and subversive activities.
MANGUST fast patrol boat Project 12150 - It is intended to: be on duty for frontier safety; support on-call actions conducted within territorial waters; monitor the vessels' compliance with regulations governing the shipping conditions within the outer and inner harbours and ports; perform missions falling within the scope of duties of maritime law enforcement agencies, customs and fishery protection authorities.
CHIBIS light frontier boat Project 21850 - It is intended to conduct security service at offshore areas of state frontier. The boat provides following task solution: littoral water areas, inner and outer harbours and ports survey aimed to carry out a search of minor and medium targets; detecting and interception of light high-speed targets; transportation of frontier guard and subversive troops; conducting people rescue service in the duty area.
Large inshore survey boat Project 19920 - It is intended to: perform inshore surveying, buoy laying and maintenance works; maintain, inspect, perform recharging and repair of coastal and floating navigational facilities; deliver personnel, special-purpose equipment and cargo onto unprepared shore.
Towing motorboat Project 14122 - It is intended for floating bridge motorization as well as for caution crossing support and equipment. When onshore the boat is transported by pontoon vehicle KrAZ-260 or Ural-53236.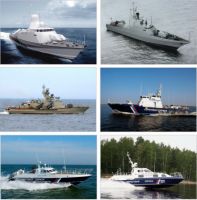 Vympel Shipyard JSC
Ul. Novaya 4, 152912, Rybinsk, Russia
+74855202315
+74855211877
aovympel@yaroslavl.ru