Oct 29, 2021
SOURCE: Patria
Patria participates in the research project about cooperation between unmanned and manned aerial vehicles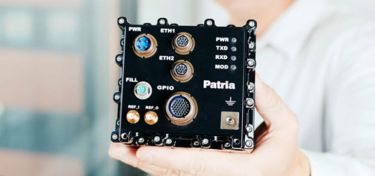 October 29, 2021 - Patria participates in a research project led by the Finnish and German Defence administrations. The research project investigates the teaming of manned and unmanned systems in various situations (MUM-T, Manned-UnManned Teaming).
Finland's part of the research project does not include any specific platforms or systems, focusing solely on cooperation between manned and aerial vehicles and systems. Patria cooperates with its partner Airbus Defence and Space (Germany) who leads the industry share of the research project as a prime.
Patria's responsibility is to provide wireless communication with CANDL data link system (Compact Airborne Networking Data Link) between manned and unmanned aerial platforms as well as ground systems in MUM-T scenarios. The test and demonstration flights related to MUM-T research were conducted in Rovajärvi and Kemijärvi areas this autumn led by the Finnish Defence Forces and in cooperation with the German Ministry of Defence.
"Cooperation with Airbus and German Ministry of Defence in a research project is a natural continuation of more than 15 years of successful cooperation in the area of military aviation. First CANDL data link terminals and HPA amplifier units to increase the communication range were delivered to Airbus during 2017 for MUM-T related capabilities and scenarios to enable data transfer between manned and unmanned aerial platforms as well as related ground systems. CANDL's unique combination of reliable and networking communication enables LVC-based training (Live Virtual Constructive) for future training needs and requirements. In LVC-based training simulators and Computer-Generated Forces are seamlessly connected creating very realistic training environment", comments Jouni Wirtavuori Director, International Sales, from Patria's Systems Business Unit.
"These kinds of cooperation projects are very important to industry. They open possibilities for networking with European industry as well as being part of multinational value chains", states Pasi Niinikoski, Chief Business Development Officer of Patria Group.
Patria CANDL is designed for reliable and jamming resistant communication for applications requiring networking capabilities between multiple assets. CANDL provides 8 Mbit/s data rate, secure C2 channel as well as digital HD video and voice transfer. CANDL's SDR-based (Software Defined Radio) data link equipment is qualified for aerial platforms covering modern front-line fighters. CANDL is suitable for military and civil use due to versatile operational frequency range.
For further information:
Jouni Wirtavuori, Director, International Sales, Systems Business Unit, Patria, Jouni.wirtavuori@patriagroup.com
Patria is an international provider of defence, security and aviation life cycle support services, pilot training and technology solutions. Patria provides its aerospace and military customers with equipment availability, continuous performance development as well as selected intelligence, surveillance and management system products and services. Patria's mission is to give its customers confidence in all conditions, and the vision is to be the #1 partner for critical operations on land, sea and air. Patria has several locations including Finland, Sweden, Norway, Belgium, Estonia and Spain. Patria employs 3,000 professionals. Patria is owned by the State of Finland (50.1%) and Norwegian Kongsberg Defence & Aerospace AS (49.9%). Patria owns 50% of Norwegian Nammo, and together these three companies form a leading Nordic defence partnership.
View source version on Patria:
https://www.patriagroup.com/newsroom/news/2021/patria-participates-in-the-research-project-about-cooperation-between-unmanned-and-manned-aerial-vehicles