Last Update
September 13, 2018
Categories
Aircraft, Helicopter, UAV, Spacecraft & related equipment
Mechanical, Electro-mechanical, Hydraulic and Pneumatic components
Other Aerospace, Defence and High Technology related companies
Services (R&D, training, engineering, consultancy, …)
Robonic Ltd., based in Tampere, Finland, is the premier UAV launcher manufacturer in Europe. Robonic is a Sagem (SAFRAN Group) owned company. Robonic track record of pneumatic UAV launching technology spans over three decades. Robonic also operates a dedicated UAV test flight centre in Lapland at Kemijarvi, Finland. Robonic is a wholly owned subsidiary of Safran Electronics and Defence.
Robonic provides a complete product range for various UAV types (from 10 to 500 kg). The designed maximum launching power is 8,500 kW accordingly.
The systems are tested both with propelled and jet engine high performance target UAV's.
The Robonic system is a cost effective and flexible launching method, also meeting the requirement of current tactical UAV market.
Robonic has arrangements with several UAV manufacturers and systems providers for existing and future programs. All programs have extensive requirements to meet both in performance and surroundings – Robonic has delivered a solution for all.
Contact info #1
Pinninkatu 53 C, 3rd floor, FIN-33100 Tampere, Finland
UAV LAUNCHER
Robonic launchers are designed to meet the requirements (take-off speed, UAV weight and maximum acceleration) defined by the customer. The launcher performance is simulated before the design and the results are carefully reviewed with the customer.
Robonic system meets the requirements of high performance targets. This was verified in February 2001 at the DERA test range in the Hebrides, UK with the FRL (Flight Refuelling Ltd) Falconet using a Finnish Defence Forces pneumatic target launcher modified specifically for the test.
The main benefits of pneumatic 'rail launcher' over 'zero length launch' with rockets are; lower cost, minimising the hazard of rato's and the requirement for logistics. Launcher launches are also extremely dependable. EADS GmbH´s DO-DT55 has been succesfully launched off the Robonic launchers the company produced during 2004 and 2005.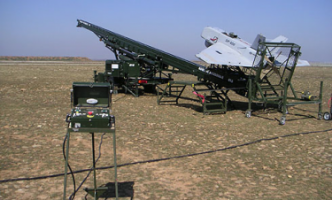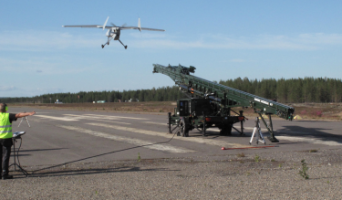 Product informational files
Robonic Ltd.
Pinninkatu 53 C, 3rd floor, FIN 33100, Tampere, Finland
+358 40 751 6363
+358 3 273 0588
sales@robonic.fi