Last Update
August 21, 2018
Categories
Infrastructure, Construction & Civil Engineering
Other Aerospace, Defence and High Technology related companies
Services (R&D, training, engineering, consultancy, …)
UNITEAM A.S., is a renowned supplier of mobile shelters and modules. Since its establishment in 1993 the company has built up an international network of companies and agents. Uniteam also offers full service solutions including financing, world wide installations, service, maintenance, transport, storage, rebuilding, and provision of infrastructure. Within the defence sector Uniteam A.S. is known as a solid supplier of Mobile Hospitals and Command Post Worldwide.
Uniteam A.S. has delivered high mobility shelter systems and container solutions to Defence Forces in Norway, Sweden, Denmark, The United Kingdom, The United States and The Netherlands, as well as NATO, The United Nations and several other countries.
The shelters are field proven and developed in close cooperation with its customers. Uniteam possess a wide range of products for the civil sector, such as Gas & Oil industry, Building & Construction and Transport Industry.
Contact info #1
Sales & Marketing Director
Gneisveien 8, 2021 Skedsmokorset, Norway
TOTAL CAMP
Uniteam delivers a complete range for all facilities including command posts, accommodation, kitchen and mess facilities, sanitary, environmental solutions, water purification, sewage treatment, incinerator and workshops.
Tents could be interlocked with the shelters. It is simple to use freight containers. The wise customer always plan to give the container a function at the destination. The only limit to customizing containers are the 8 ISO standard corners and your imagination.
High Mobility Camps
Uniteam has extensive experience in providing operative military units with total containerized camp solutions.
The world's first movable camp was delivered to NATO's IRF Squadron at Orlandet, Norway, back in 1997. The unit consisted of 348 special units arranged in sections.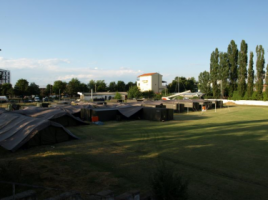 MOBILE HOSPITALS
Uniteam delivers mobile hospitals and Turn Key Mobile Hospitals able to cope with the difficult conditions of disaster and war. Several newly developed technical systems have been adopted to refine the concept according to Nato standards.
The guidelines for projecting has been: easy relocation, short set up time, rugged basic technology, easy maintenance and good working conditions for doctors and nurses equal to civilian hospitals of European standards.
Medical Shelters
OPERATING THEATRE
X-RAY
PHARMACY
STERILIZATION (RRD)
AIRBORNE INFECTION ISOLATION
LABORATORY
FIRST AID PARAMEDIC
ICU
DENTAL
TURN KEY MOBILE HOSPITALS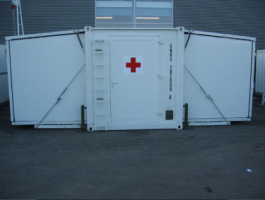 SHELTERS
Expandable Shelters
3 in 1 shelter expandable
3 in 1 shelter foldable
2 in 1 shelter
Rapid Deployment Shelter
Protective Shelters
Shelters could be delivered with NRBC protection or solutions that solves the hydrogen sulphide (H2S) problem for the oil and gas industry as well as TEMPEST.
Uniteam now provides its customers with the option of enabling their tent- and shelter equipment with COLPRO. Nato standardization agreement (STANAG) for COLPRO has security classification. The design criteria and construction parameters for COLPRO shelters facilities is normally a classified agreement between the customer, with the necessary marginal values, and Uniteam.
Tactical Shelters
It provides 32 sqm when expanded. These shelters are the 6th generation, combining field testing and experience along with innovative design.
The result is a shelter that fully meets all climatic, logistical and operational requirements of a demanding customer at a reasonable cost. It can also be operational when during transit.
Built entirely from steel, the shelter is extremely solid and has been ruggedized as a result of in-field experience by military customers operating in diverse climatic (artic and desert) and operational environment over the past 7-8 years. Customers include the Armed Forces of Denmark, Norway, The Netherlands and Sweden, as well as NATO Consultation, Command and Control Agency (NC3A) and The United Nations.
OIL & GAS
Blafro Slide Baskets
Gas Safe Shelter Product (GSSP)
Electrical Installation Building
H2S TR-shelter system (Temporary Refugee)
Offshore Containers
Offshore Basket
10' and 20' containers for offshore use (DNV Z.7.1)
INTEGRATED CONCEPTS
Laundry
Workshop Shelters
Environmental Systems
Water Purification
Water Distribution Rack
Fuel Distribution Rack
LOGISTIC CONCEPTS
Canteen
Sanitary / Ablution
Jail
Schools
Kitchen
Offices
Accommodation Prefab
Rapid Deployment Shelter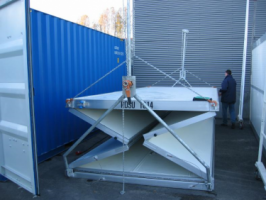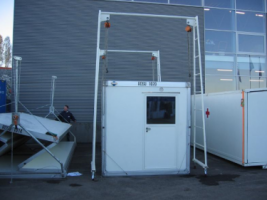 HOSPITALS
Turn key Role 2 mobile hospital delivered to the Romanian Army
33 modules Mobile Hospital, Dental Clinic, Laboratory, Blood Bank…delivered to the Dutch Army
Mobile Field Hospital delivered to the Iran Ministry of Health
First Aid & NATO Hospital to Turkish Army
SHELTERS
14 pcs offshore shelters to Reservoir Exploration Technology A/S (RXT)
Gas Safe Shelters up to 500 men on Barge Offshore, for Agip Kco
4 H2S Protection GSSP to Petrochina
COMMAND POSTS
Command posts delivered to the Oman and Irish Army
13 pcs Expandable "3 in 1" delivered to the Norwegian Army
14 pcs Expandable "2 in 1" delivered to the Norwegian Army
25 Hydraulic "3 in 1" to Denish Army
2 Hydraulic "3 in 1" to Swedish Army
Uniteam A.S.
Vassbotnen 1, 4313 Sandnes Postboks 245, 4066 , Stavanger, Norway
+47 51 63 50 00
salg@malthusuniteam.com