Last Update
August 21, 2018
Categories
Infrastructure, Construction & Civil Engineering
Other Aerospace, Defence and High Technology related companies
Services (R&D, training, engineering, consultancy, …)
NorLense AS, is one of the world's leading companies within the development and manufacturing of Oil Spill Emergency Equipment and Inflatable Tents. It specializes in a wide range of preparedness for people and the environment. The company develops product and systems for use under rough conditions based on the best technology available and innovative ideas. NorLense focus on Health, Environment and Safety.
The company's main products are inflatable shelters and oil-booms. The shelters are based on well tested technology from the oil-booms since 1990, with high pressure air-tubes and single-point inflation. This combination allows the user to enjoy rapid set-up and extreme stability in various temperature conditions.

Contact info #1
Fiskebol NO-8317, Stronstad, NO 967052469, MVA, Norway
TRAINING, SERVICE & EXERCISE
NorLense and NordNorsk Beredskapssenter As provides training and classes sessions regarding different grades of oil recovery and operations. Also practical training with NorLense Oil Rec equipment. NorLense has dedicated personnel and special service department for service of NorLense equipment.
SHELTERS & TENTS
NorLense AS produces tents in different sizes, depending on the purpose. Generally the company produces tents in 3,5m, 5m, and 6m width. All width sizes can be produced in different lengths to fulfill the customer's needs.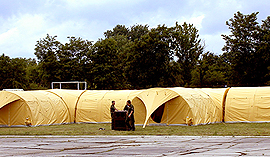 Product informational files
SILTCURTAIN
The NorLense siltcurtain is a special type of boom with draft supplied with a membrane fabric. Siltcurtain prevents polluted mud from the sea floor spread through the water collum. Silt Curtains are often used when cleaning polluted mud from harbours. Siltcurtain also protects water intake for power plants and freshwater plants.
Product informational files
NorLense AS
Fiskebøl, NO 8317,, Strønstad, Norway
+47 7 611 81 80
post@norlense.com