Last Update
September 14, 2018
Categories
Composites, Plastics & Rubber
Infrastructure, Construction & Civil Engineering
Metal Processing, Parts & Components
Services (R&D, training, engineering, consultancy, …)
Ships, Vessels, Submarines & related equipment
VIBRATEC AKUSTIKPRODUKTER NORWAY, is one of Scandinavia's leading suppliers of noise and vibration-reducing products. Vibratec Akustikprodukter Norway supplies noise and vibration reducing products and solutions to the offshore, naval and marine industries. The company manufactures anti-vibration and shock mounts for demanding applications, design exhaust systems and delivers a wide range of related products.
The company has a substantial stock of anti-vibration and shock mounts (isolators), exhaust gas silencers, compensators (bellows/expansion joints) and other noise reducing materials. Vibratec Akustikprodukter manufacturers several types of all-metal vibration and shock mounts (isolators) and also cable mounts (wire rope isolators) particularly well suited for military shock applications.
Founded in 1995, Akustikprodukter Norge AS (APN) joined in 1999 the Vibratec Akustikprodukter group, one of the leading suppliers of noise and vibration insulating products in Scandinavia. The Company is a sole manufacturer of cable mounts in the region and offer extensive engineering assistance related to shock and vibration, as well as mechanical and thermal stress.
Contact info #1
P.O. Box 765, 3196 Horten, Norway
Contact info #2
patric.gjessing@vibratec.no
Beverstien 3, 3188 Horten, Norway
TECHNICAL SUPPORT
Vibratec Akustikprodukter has a number of skilled engineers with know-how, long-term experience and in-depth knowledge of noise and vibration control in many different applications Vibratec can provide wide technical support on the use of our products and systems such as:
Material specifications (related to project requirements, lab tests)
Engineering assistance (calculations via appropriate software, support at the construction site)
Drawings in AutoCAD or Inventor (2D installation plans and details, 3D presentations etc.)
Tests to evaluate mechanical, physical and long-term behavior. Testing is normally done in co-operation with the Marcus Wallenberg Laboratory in Stockholm
On-site measurements and courses in vibration measuring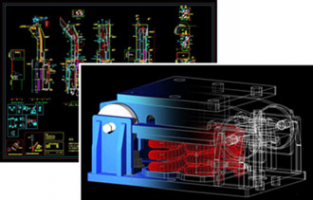 ENGINEERING SERVICES
Akustikprodukter Norge (APN) offers a complete shock and vibration engineering service. Many years of experience in the field, combined with use of modern tools, enable us making the optimized selection of resilient mounts for your applications and ensure that the suspension meets the required standards or demands.
Utilizing our sophisticated vibration and shock calculation program, elements like 6 degrees of freedom, inertia of moments, centre of gravity of the suspended unit, dynamic stiffness of the selected mounts, earth gravitation, inherent damping, etc., are taken into account.
The results of the calculations and analyses are supported by an explanatory summary report.
Services informational files
VIBRATION ISOLATORS
Vibratec Akustikprodukter is stocking an extensive range of vibration isolators (mounts) for use in various civilian and military ships, on offshore platforms, in land based industry, in civil and military aircraft, in vehicles, in buildings and on railroad tracks.
Spring Isolators
Spring Isolators are soft isolators offering a very high level of vibration isolation. The service life is long and they will function in all weather conditions. Spring isolators are ideal to suspend rotating machines of all kinds.
Metal Cushions
Metal cushions are used as isolators in applications where the disturbing frequency is high or as shock isolators. They are ideal for use as mounts for machine tools operating above 30 Hz. The metal cushions are insensitive to heat, cold and aggressive environments.
Wire Rope Isolators
Cable mounts (wire rope isolators) are manufactured in the factory in Norway. The cable mounts are ideal to suspend sensitive equipment in mobile applications.
Rubber Isolators & Rubber mounts
Rubber Isolators offer a cost effective solution for vibration isolation of all kinds of rotating machines in applications indoors. If the setup needs to have a high internal damping rubber isolators may be preferred.
CDM
The CDM range of materials and isolators are high quality products for vibration isolation of buildings and railway tracks.
The CDM range can be used for suspending entire buildings to prevent vibrations to enter or exit the building or build box-in-a-box systems for sensitive environments indoors.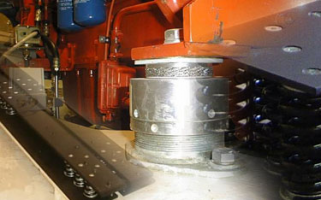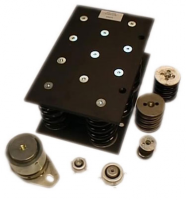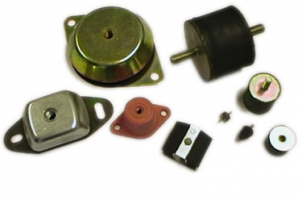 EXPANSION JOINTS
Vibratec Akustikprodukter is supplying expansion joints particularly suited for exhaust ducts/pipes for ships and offshore structures.
Product informational files
SILENCERS
Vibratec Akustikprodukter is stocking a variety of silencers for diesel engine exhaust systems. The company is supplying silencers to gas turbine and steam ventilation applications, or silencers with built-in exhaust purifiers/catalyst converters according to specifications.
Reactive Silencers are recommended for silencing the exhausts of small and medium sized diesel and petrol engines. The DSA/FPR have twin chambers and provides 25 dB(A) attenuation, and the DDA/FPD have triple chambers and provides 30dB(A) attenuation.
Absorptive silencers with a design as provides very low restriction to exhaust gases, thus back pressure is negligible. Silencers of this type may also be used as secondary units on systems using reactive primary silencers.
Product informational files
CATALYST CONVERTERS
Vibratec Akustikprodukter is supplying catalytic converters, catalytic mufflers and diesel particulate filters for diesel engines of different sizes.
With an array of converter and filters in different sizes we can offer emission control systems for most types of applications.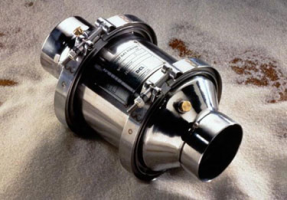 OTHER PRODUCTS
Vibratec Akustikprodukter is also supplying:
Sound-insulating and fire-resistant doors
Sound-absorption products for better acoustic comfort Acoustic screens
NoiseKiller – a patented anti-vibration coating and glue
Strain gauges, transducers and instrumentation
Vibratec Akustikprodukter Norway
, Horten, Norway
+47 3 307 07 50
info@vibratec.no