Last Update
December 15, 2022
Categories
Ballistic Protection
Composites, Plastics & Rubber
Other Aerospace, Defence and High Technology related companies
Services (R&D, training, engineering, consultancy, …)
Textile, Individual Equipment, Clothing
C.P.E. (Combat Protective Equipment) is a company with its headquarters and factory in Finland. The company has dealers all over Europe and the USA, and are also established in Asia and the Middle East.
It manufactures, among other things: Ballistic vests, protective equipment for use in riots, equipment for use in full contact training for the police and the military as well as protective equipment for use in combat sports.
C.P.E. has reserch and development programmess with several customers including NATO forces, police and prison services. Their solutions are always technology in front. The materials used in our products are always the latest and best available in the market.
Products/Services :
Training and simulation

Training facilities and equipment

Mission and weapon training systems, police / law enforcement agency

Personal protection

Overall protection (suits)

Head protection

Body protection

Other personal protection equipment
C.P.E. Production Oy is a participant in the Bulletproof Vest Partnership Program.
Ballistic Equipment
C.P.E. consistently works in close co-operation with end users to ensure its solutions are the best available. The wide ranges of ballistic solutions are saving lives in combat every day.
C.P.E. is only using the best materials available and we never accept to use cheaper copies of the original ballistic materials which are introduced quite often. This will only set lives in danger.
The Company's soft ballistic solutions are divided into three main groups:
The Diamond line is the top of the range and the lightest and thinnest solution in the market where it saves 30-35% in weight compared to Aramid solutions.
The ranges of products are mainly:
Concealed vests,
Tactical vests,
Special designed solution,
Ballistic blankets and shields.
Anti-riot equipment
With the global climate of civil unrest, C.P.E. has been called upon to design the next generation of Riot gear. Consequently C.P.E. has become the leading supplier of high quality riot protective gear in the world.
The equipment is lightweight, quick and simple to put on, and provides protection against kicks, blows, and impact of clubs.
It is currently being used by numbers of metropolitan law enforcement agencies in Europe, the United States, the Middle East, Asia, Central America and several NATO forces.

C.P.E. also has an ongoing NSPA (NATO) contract which included Riot and Training equipment.

The Body protection can be with or without Flame Retardant (FR) outer fabric, it can also be just impact or include high level of Stab and Spike protection.

The range of Riot solutions are:
Protective suits,
Protective Gloves,
Riot Shields,
Riot helmet,
Protection for Horses and Dogs.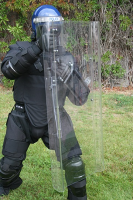 Training equipment
C.P.E. offers training equipment designed to facilitate multiple levels of training. C.P.E. is the number 1 brand in Europe for Training suits. The Company's solutions are also in use in the United States, in the Middle East, and by NATO forces in different conflicts areas where training is needed for the forces.
C.P.E's two main training suits, SEMi and FCT, are the only suits in the world that are EC/CE certified which again shows the quality, and those are NATO certified.
C.P.E. line of solutions is made for realistic training where the crime happens, not only for soft in-door training.
The range of Training solutions are:
Training suits,
Strike Pads,
Training Batons,
Training weapons.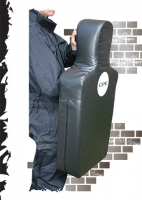 C.P.E. Production Oy
Asentajankuja 3, Forssa, Finland
+358 36 882 920
info@cpe.fi