Last Update
August 21, 2018
Categories
CBRN Equipment
Infrastructure, Construction & Civil Engineering
Other Aerospace, Defence and High Technology related companies
Services (R&D, training, engineering, consultancy, …)
Normeca A.S., is among the world leaders in the supply of disaster and preparedness solutions and services. The company supplies the full range of mobile hospitals and –clinics using, tents, containers, trailers or existing building dependent on its customer's needs. Up to know the company supplied mobile hospitals/clinics to:
India,
Afghanistan,
Iran,
UAE,
Jordan,
China,
Japan,
Norway, and
Czech Republic.
Normeca has its own branch offices through Joint Venture, directly and/or through an agreement of co-operation in Murmansk in Russia, Tokyo in Japan (where we have 10 employees), Abu Dhabi in the UAE, Athens in Greece and in Miami in the USA. Besides, Normeca has agents and/or distributors in approximately 70 - 80 countries world-wide.
Normeca has developed a number of special products for field/mobile hospitals and equipment for military personnel. Armed forces of various countries world-wide have already purchased this equipment. Today the company has customers in the Armed forces of Japan and China in the Far East, USA and Canada in the West, the Scandinavian countries in the North and the countries of Middle East / Africa in the South.
NORBASE HOSPITAL CONTAINER
The container-based field hospitals are unique in construction and design. All are based on standard 20-foot ISO containers. The two sides of the container are lowered, and sections on each side pulled out. Within 20 minutes, the available floor space has tripled (to approximately 36 square meters).
All fixed installations such as water, drainage, electricity, gas pipes, heating and air-conditioning are built in and ready for use. The containers are constructed of lightweight aluminum.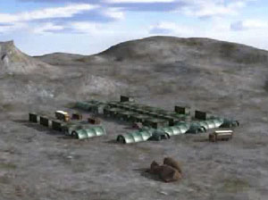 SEMI-MOBILE EMERGENCY HOSPITAL
A central hospital unit and smaller medical clinics all based on flat packed containers that may be connected and designed according to the need and purpose with a very short building period.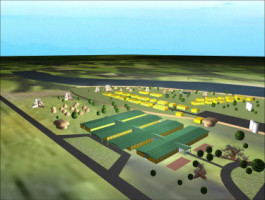 DENTAL CLINIC MOBIL
Normeca dental clinic - mobile Dental clinic based in container.
FLOATING HOSPITAL
The NorCat Floating Hospital is a fully equipped and functional hospital. It is based on a catamaran hull thus providing an exceptional amount of available floor space. With its shallow draught it is very well suited for use in all types of navigable waterways.
INFLATABLE TENT
Norlense shelters are typical multipurpose tents can be easily adapted for use as billets, provisioning units, field hospitals, command headquarters, meeting rooms, etc.
MOBILE CLINIC TRAILER BASED
Expandable trailer up to 65 m2 space. Can be used as a clinic, x-ray, OP, lab or combination. Can be made after the customers specification.
MOBILE HOSPITAL TENT BASED
A mobile hospital based in tents More than 100 hospitals in use the last 20 years. Delivery within 48 hours.
NBC QUARANTINE
The system may be assembled in different combinations, and can be extended to include tents or special containers for rehabilitation, living quarters, logistic support etc.
OVERBOOTS (WET & COLD CONDITIONS)
Over boots for use in cold and wet environments, - insulated, with waterproof uppers for use over regular boots.
The over boots is:
Totally waterproof,
Fits bindings for skies and snowshoes,
Provides for chemical protection,
Is lightweight, and
Fits into one of the pockets of the back pack.
REGUGE CAMP & INFRASTRACTURE
The camp is estimated to give 500 people temporary care, and can be utilized as a refugee camp as well as sickbay. The camp are supplied with catering facilities, toilets, equipments for water heating and supplies, showers, electric power, lighting systems and 17 tents of 90 m2. The tents can be used in artic as well as in tropical regions. Furthermore the camps have beds, bed-linen, clothes, cutlery and personal toilet requisites for every individual.
Normeca A.S.
Mailandvn.26, P.O. Box 404, 1470, Lørenskog, Norway
+47 6 792 76 00
+47 6 792 76 91
post@normeca.no