Categories
Weapons & Ammunition
Services (R&D, training, engineering, consultancy, …)
ARCUS Co. is internationally recognized center of competence in military engineering. It specializes in development, production and supply of the following defence products: Ammunition: Grenades for Grenade Launchers, Medium Caliber Ammunition, Mortar Bombs; Fuses: for Artillery and Tank ammunition, Mortar Bombs and Air Bombs; Small Arms: Pistols and Revolvers; Grenade Launchers and Mortars.
ARCUS Co. employs approximately 2 800 persons, 120 engineers work on Research and Development projects. The Company is fully licensed for manufacture, trade and export of defence-related products in accordance with the Bulgarian Law and internationally adopted regulations.
The Company was founded in 1965 as a mechanical engineering plant for production of fuzes. Through the years it expanded its product range to include ammunition, small arms and close support weapons Nowadays the Company has 40 years of tradition in research, development and manufacturing of defence-related products.
ARCUS Co. performance is focused on quality. The quality of their products is based on years of research and experience, highly specialized workforce, advanced equipment and testing facilities. The Company is certified for compliance with ISO 9001:2000; ISO 14001:2004; OHSAS 18001:1999; AQAP 2110 Quality Standards.
ARCUS Co. has business relations with companies, organizations and individuals from more than 75 countries worldwide. The Company policy is pointed at establishing of long-term partnership based on mutual confidence and satisfied standards.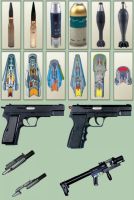 Arcus Co.
219, Vassil Levski Str. 5140, Lyaskovets, Bulgaria
+35961923134
+35961922123
marketing@arcus-bg.com