Last Update
November 24, 2021
Categories
Electrical, Electronics & Electro-optics
Nedinsco: A WORLD LEADER IN HIGH PRECISION OPTRONICS
Nedinsco specializes in the development and manufacturing of opto-mechatronical systems.
By making state-of-the-art products, we provide visibility to our customers even under the most difficult conditions.
Strong in-house R&D combined with world-class production, assembly and cleanroom facilities ensure optimal quality.
Nedinsco develops and produces a wide range of high-quality products for the defence market. Examples are high-end cameras, direct view solutions, sensor platforms and boresights. Next to the Dutch defence market, customers also include many leading Original Equipment Manufacturers (OEMs) around the world.
The company's high end cameras, day- and night vision solutions, sensor platforms, periscopes for submarines, boresights and training systems, are all of the highest quality level. Nedinsco supplies the defence market with a complete range of products and services based on essential and unique mechanical, optical, electronic and software competences. In the defence world, Nedinsco is regarded as one of the leaders in the supply of high-quality, state-of-the-art systems with military certification.
These systems are designed to meet customers' most stringent demands, both today and tomorrow. Nedinsco's unique strengths lie in the fact that its products extend from unique concepts and prototypes right through to series production and Integrated Logistics Support (ILS). Nedinsco supplies an impressive range of solutions, including both series production and specific, custom made products.
Interviews
Interview with Mrs. Ria Weijnen, Marketing and Communications Manager, Nedinsco B.V. (September 15th, 2021) Source: Epicos (link)
Contact info #1
Jan van Riebeeckweg 5 5928 LG VENLO, The Netherlands
Contact info #2
Jan van Riebeeckweg 5 5928 LG VENLO, The Netherlands
Contact info #3
New Business Development Manager
Alessandra.liberto@nedinsco.nl
Jan van Riebeeckweg 5 5928 LG VENLO, The Netherlands
Contact info #4
Jan van Riebeeckweg 5 5928 LG VENLO, The Netherlands
Design & Development
After evaluating your request, our technical office passes the assignment on to our engineers. The team discusses the assignment, and the team leaders distribute the tasks to the appropriate people. Our specialized technicians work closely together to achieve the perfect overall result. During the project, our project managers keep you constantly informed.
In the design phase, three specialized departments review your request: optical system design, mechanical system design and electrical & software system design. While paying close attention to practical feasibility, our engineers will advice you on further improvements and integrate the latest software and innovations. Once the product design is complete, the order is passed on to Production.
Ruggedized Design
Ruggedized design is the practice of designing products that must withstand harsh environments or potential human vandalism. This type of design takes a special level of care and discipline – requiring a strong understanding of Electro-Mechanical Design. Ruggedized products may have to endure many different stresses during their operating lifetime and all of these must be accounted for within the design and manufacturing phases.
Ruggedized product stresses can include the extreme heat, extreme cold, high gravitational forces, exceptional pressure and thermal shocks.
With its multi-disciplinary capabilities – Mechanical Design, Industrial Camera Design, along with its tight coupling to volume manufacturing, Nedinsco is able to verify design parameters for manufacturability throughout the design process – key to keeping costs low and ensuring a successful ruggedized design.
Products in the defence markets that require ruggedization are:
Vision devices, products for situational awareness, day-night cameras and other products placed in armored vehicles – exposed to extreme temperatures, extreme forces, etc.
Optical Assembly
The optical assembly department is where optical components such as lenses and optical windows are placed in their housings. The complete optical systems, such as high-end cameras are assembled and calibrated. Specialist, precision work in a dust-free environment.
Our Optical Assembly department works according to strict rules and guidelines. All the parts we need for optical assembly are passing through our decontamination line where they are thoroughly cleaned. Many of the products we supply will be exposed to extreme conditions. We take this into account when choosing the materials.
Nedinsco specializes in the production, adjustment and calibration of optical systems. This means that you can install the products delivered by us immediately because all the necessary adjustments and settings have been carried out by us.
BACK-UP SIGHT
Nedinsco's BACK-UP SIGHT provides the crew of armored vehicles with the ability to engage targets in degraded mode. The non-powered BACK-UP SIGHT is an emergency device and is TRL-9. Available in both Single Field of View and Dual Field of View models, this non-powered direct sighting device is suitable for new and retrofit programs for armored vehicles. The BACK-UP SIGHT can be customized to be used with different caliber guns and in a variation of military vehicles.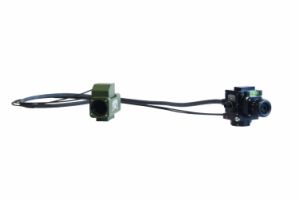 Product informational files
OTUS
The OTUS is a Military Off The Shelf (MOTS) full-HD camera. The OTUS has been developed to ensure that drivers of military vehicles can safely navigate and to manoeuvre during both day and night in poor-visibility conditions without the use of lighting equipment on vehicles, supplementary infra-red lighting, or lasers.
Suitable for any application where reliability is a must, OTUS is housed in a weatherproof, hermetically sealed enclosure to withstand extreme environmental conditions.
Product informational files
BORESIGHT
Nedinsco's Muzzle Boresight Device (MBD) is used to check and correct the alignment of the gun with respect to the aiming device. It can be used in every rotational orientation without losing accuracy of the alignment. Nedinsco offers world's best alignment precision in a simple operating concept.
Having a ruggedized design and offering easy fixation in the gun, the Nedinsco Boresight devices are the most accurate and reliable weapon alignment tools found on today's market.
Stabilized Sensor Platforms
Based on all of Nedinsco's experience in optics and optronics and our partnership with Hensoldt, we have developed a broad spectrum of observation and aiming platforms that enable vehicle and ship crews to increase and maintain their situational awareness, even in bad weather and under the most difficult conditions. With the benefit of stabilized panoramic vision and aiming, they never lose sight of their surroundings.
All our sensor platforms are stabilized and robust and suitable for 24-hour day & night observation and targeting.
The systems can be easily integrated into an existing information and command system and can be expanded at any time thanks to the modular design. An automatic motion detection function supports the user even on longer missions. The image fusion function combines the data from the different camera types and sensors into a fused image. By integrating all sensitive optical components in the best housing materials, our systems provide optimum visibility for mobile or stationary use.
Innovation
Nedinsco is distinctive through innovative products and delivering added-value, by offering knowledge, know-how and craftmanship to our customers.
Quality
We develop and produce high precision optronics of the highest quality.
Nedinsco is AS 9100D and ISO 9001:2015 certified.
Partnership
Nedinsco seeks to build strong partnerships with its customers, based on long-term mutual trust.
Reliability
We keep our promises. Always.
Nedinsco B.V.
Jan van Riebeeckweg 5, 5928 LG, Venlo, The Netherlands
+31 (0) 77 35 58 777
info@nedinsco.com