Last Update
September 13, 2018

Categories
Electrical, Electronics & Electro-optics
Since 45 years Opticoelectron was and is still the largest producer of quality optical components and OEM products on the Balkans. Opticoelectron Group JSCo has 580 employees from witch 150 highly qualified engineers and Ph.D`s specialized in designing own products and working on customer request. Their production is exported to all European countries, Near East and USA. The company is ISO 9001:2008 and AQAP 2110 certified.
The company's products include: Unified Mortar Sights; Anti-Aircraft Automatic Sights; Combined Grenade Launcher Optical Sights; Optical Gun Sights; Artillery Optical Sights; Panoramic Periscope Sights; Combined Artillery Optical Sights; Grenade Launcher Optical Sights; Automatic Grenade Launcher Optical Sights; Periscope Artillery Aiming; Laser Range Finders; Optical Sights for Fire Arms; Telescopic Optical Sights; Night Vision Monoculars; Night Vision Goggles; Red Dot Sights; Thermal Sights; Uncooled Thermal Cameras; Periscopes; Commander Night Vision; Security Systems.
Opticoelectron has four manufacturing plants: Plant for optics JSCo (optical components and assembly); Optomechanic Ltd. (mechanical components); Ectron JSCo (assembly and testing laboratories) and Optoform Ltd. (casting moulds and instruments).
Plant for Optics Jsco
They manufacture precise optical components and assemblies, based on proved and advanced optical technologies, sophisticated equipment and experience since 1971, and operate by an integrated system for quality assurance ISO 9001. The plant manufactures: spherical lenses; flat optics; prisms and wedges; optical coatings; achromatic doubles and triples; optical assemblies; optical reticles; redii test plates; mounted objective and ocular lenses.
Optomechanic Ltd.
OPTOMECHANIC manufactured parts and assemblies in the field of precision mechanics and opto-mechanical civil proceedings, and defence industry. The company has a programming workshop equipped with high-tech CNC Machines for the production of parts with complex geometric configuration and accuracy 0,002 mm.
Optoform New Ltd.
The plant is engaged in the following activities: Design and manufacturing of modules and dies for parts made of plastics, phenol resin, rubber and Al alloys with overall sizes 1100x1100x800mm; Design and manufacturing of dies for press machines up to 100 tons and material thickness up to 10 mm; Manufacturing of non- standard equipment including appliances, stands, assemblies and spare parts.
Ectron Jsco
Opticoelectron can assembly and test optomechanical and optoelectronic devices including day and night sights, magnifiers, microscopes. The Testing Laboratory performs tests according to NATO Standards. The plant production includes: ORI Station; Climate chambers; Collimators; Pressure Chambers; Vibrations Stand; Shooting Simulator; Transport Simulation.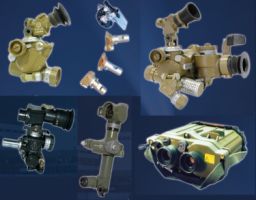 OPTICOELECTRON GROUP JSCo
Hi-Tech park "Opticoelectron", 4500 , Panagyurishte, Bulgaria
+35935762254
+359 357 64 115
oeg@opticoel.com